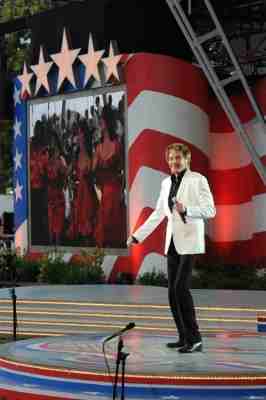 Music legend Barry Manilow returns to A Capitol Fourth on PBS to celebrate 35 years as America's national Independence Day Celebration, live from the U.S. Capitol on Saturday, July 4 from 8:00 to 9:30 pm ET.
Hot off the heels of his One Last Time arena tour and recent Grammy Award nomination for Best Traditional Pop Vocal Album, Night Songs, Manilow will kick off the country's 239th birthday with a special patriotic medley, which has not been performed since the re-opening of the Statue of Liberty 29 years ago.
In what has become tradition, Manilow will also close the concert broadcast as the sky lights up with the largest fireworks display in the country. Manilow will be accompanied by the National Symphony Orchestra under the direction of top pops conductor Jack Everly.
Capping off the show will be a rousing rendition of Tchaikovsky's "1812 Overture" complete with live cannon fire provided by the United States Army Presidential Salute Battery, an audience favorite and A Capitol Fourth tradition.
Also participating in the event will be the Choral Arts Society of Washington, the U.S. Army Herald Trumpets, the U.S. Army Ceremonial Band, Members of the Armed Forces carrying the State and Territorial Flags and the Armed Forces Color Guard provided by the Military District of Washington, D.C.