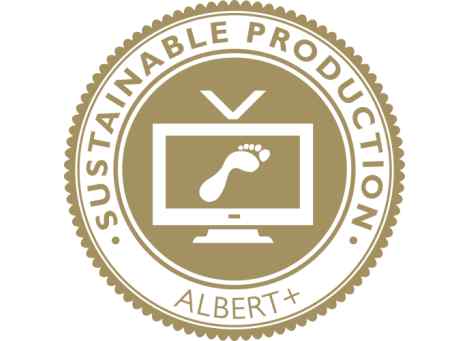 The BBC and the British Academy of Film and Television Arts (BAFTA) have announced that, for the first time on British television, audiences will be able see which TV programmes meet higher environmental standards by the introduction of a special 'albert+' certification badge on the credits.
The debut of the on-screen sustainability albert+ badge on two programmes marks the first step as the BBC and BAFTA lead the industry to a greener, low carbon future.
The albert+ badge appears on the credits of 'From There to Here' a Kudos drama production for BBC One staring Philip Glenister (Life On Mars, Mad Dogs) on Thursday, May 22, at 9pm, and 'Springwatch', with Chris Packham, Michaela Strachan and Martin Hughes-Games on on BBC Two, on Monday. May 26, at 8pm.
Programmes that achieve albert+ are those where senior staff take a strong lead on sustainability, sharing goals with cast and crew, measuring their carbon footprint and crucially – adopting sufficient low-carbon production techniques to address the overall environmental impact of the programme.
On 'From There To Here' sustainability achievements included:
73% of the crew local to the production base in Manchester
props and costumes sourced from local charities and returned after filming
80% drop in paper use, cut achieved by introducing an opt-in policy for call-sheets / schedules / scripts
travel emissions cut by sharing vehicles, and while in London using 100% low emission taxis, using local crew, local suppliers, and an online system to share rushes and edits to reduce the need to courier DVD's
95% of skip waste recycled and eliminating non-biodegradable disposables such as catering supplies and water bottles
On 'Springwatch' plans are set to include:
new technology such as waste vegetable oil and solar powered generators to power the facilities base on location at RSPB Minsmere, to achieve carbon neutral emissions instead of using a diesel generator
clean technology fuel cells to power remote camera and camera hubs
suppliers including location caterers to adopt sustainable catering measures, utilising the lowest emission hire cars available
recycling on-set and in the production office with all disposables reusable or biodegradable
The albert+ assessment criteria was devised at the BBC and has been previously awarded to three other BBC productions; Children's dramas 'All At Sea' and The 4 O'Clock Club', plus wildlife programme 'Autumnwatch'.
It has been adapted for industry use by the BAFTA Albert Consortium, a group with broad industry representation and expertise spanning media production and sustainable business.
"A large piece of the industry's sustainability puzzle is our unique ability to communicate effectively with audiences – I am delighted the Consortium has taken the first step along this path," said Kevin Price, BAFTA COO.
"We encourage the industry to get on board to make albert+ the expected standard for all productions," suggests Danny Cohen, BBC head of Television.
More information on the albert+ assessment process is here.
Photo courtesy: BAFTA