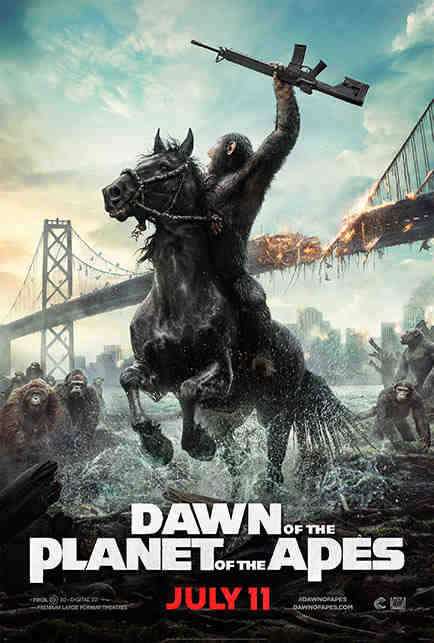 Dawn of the Planet of the Apes from 20th Century Fox opened with a staggering $73 million box office revenue for the weekend, ended July 13.
It is the sequel to the 2011 film Rise of the Planet of the Apes and the eighth theatrical release in the franchise which began with the Planet of the Apes.
Dawn of the Planet of the Apes is about a growing nation of genetically evolved apes led by Caesar. It is threatened by a band of human survivors of the devastating virus unleashed a decade earlier.
They reach a fragile peace, but it proves short-lived, as both sides are brought to the brink of a war that will determine who will emerge as Earth's dominant species.
Rentrak Corporation (NASDAQ: RENT) announced Sunday the worldwide weekend box office estimates for the weekend of July 13, 2014 as compiled by the company's Box Office Essentials and International Box Office Essentials theatrical measurement services.
"Optimus Prime and the Autobots continue their international box office success with "Transformers: Age of Extinction" adding another $102 million in 50 territories and in the process propels the international total past the $500 million mark and the worldwide box office to a now staggering $736 million," revealed Rentrak's senior media analyst Paul Dergarabedian.
"Meanwhile "How to Train Your Dragon 2" is still breathing fire in a whopping 62 family-friendly markets as it crosses $345 million in global revenue. In just 26 international territories this weekend's debut of "Dawn of the Planet of the Apes" is off to a rousing start."
According to Rentrak, the top-12 domestic / US weekend box office estimates listed in descending order, per data collected as of Sunday, July 13, 2014, are below.
1. Dawn Of The Planet Of The Apes – 20th Century Fox – $73.0M
2. Transformers: Age Of Extinction – Paramount – $16.5M
3. Tammy – Warner Bros. – $12.9M
4. 22 Jump Street – Sony – $6.7M
5. How To Train Your Dragon 2 – 20th Century Fox – $5.9M
6. Earth To Echo – Relativity Media – $5.5M
7. Deliver Us From Evil – Sony – $4.7M
8. Maleficent – Disney – $4.2M
9. Begin Again – The Weinstein Company – $2.9M
10. Jersey Boys – Warner Bros. – $2.5M
11. Think Like A Man Too – Sony – $2.5M
12. America – Lionsgate – $2.5M
Rentrak is the entertainment and marketing industries' leading provider of worldwide consumer viewership information, measuring actual viewing behavior of movies and TV everywhere.
Photo courtesy: 20th Century Fox