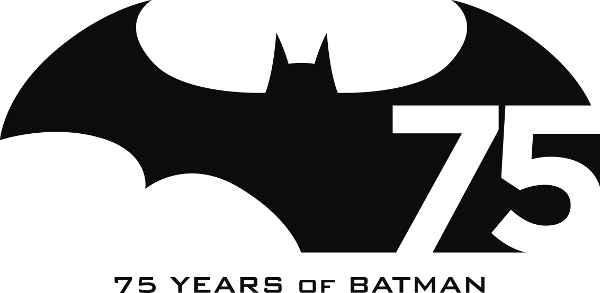 DC Entertainment (DCE) will descend upon Comic-Con International: San Diego 2014 (July 24 – 27) with a line-up of all-star panels, can't-miss events, and exclusive reveals, all to celebrate the milestone 75th anniversary of the Super Hero – DC Comics' Batman.
Celebration highlights include a pair of panels that will bring together a collection of Batman talent, art exhibit, and a look at some of the most famous Batman film costumes in history.
The centerpiece to DCE's plans includes two can't-miss panel events where heralded names from Batman lore will join forces for an ultimate fan experience.
Batman 75: Legends of The Dark Knight – In celebration of Batman's 75-year history, join comic icons Frank Miller, Grant Morrison, DCE Co-Publisher and renowned Batman artist Jim Lee (BATMAN: HUSH), DCE Chief Creative Officer Geoff Johns (BATMAN: EARTH ONE), current BATMAN creative team, writer Scott Snyder and artist Greg Capullo, along with vintage superstar BATMAN team writer Denny O'Neill and artist Neal Adams in an in-depth discussion on the legendary character's explosive adventures in comics both past and present. Thursday, July 24, 3:30-4:30pm Room 6BCF
[ Also Read: Holly Hunter Joins the Cast of Untitled Superman/Batman Film ]
[ Also Read: Filming Is Underway on "Batman v Superman: Dawn of Justice" ]
Batman 75th Anniversary – Delve into how Batman has been brought to life in comics, TV, movies and video games with Lee, Johns, Batman '66 Meets The Green Hornet co-writer and KROQ radio personality Ralph Garman, the legendary voice of Batman Kevin Conroy (Batman: The Animated Series, Batman: Arkham Knight), producer and writer Paul Dini (Batman: The Animated Series), and Peter Girardi, Senior Vice President, Creative Affairs, Warner Bros Animation. Saturday, July 26, 4-5:00pm Room 6BCF
The celebration also continues with a collection of items and events from DC Entertainment and Warner Bros. Entertainment. DC Entertainment's website will carry behind the scenes coverage and interviews.