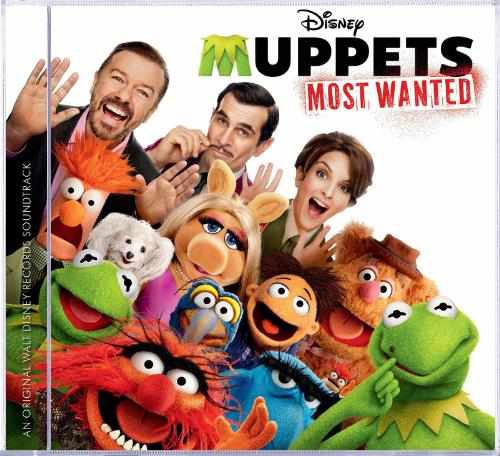 The Muppets are back on the big screen with the all-new caper "Muppets Most Wanted."
With songs by Bret McKenzie, who won an Oscar for the original song "Man or Muppet" in 2011's "The Muppets," and a score by Christophe Beck, who's behind the scores of Disney's Oscar-winning short "Paperman" and the Golden Globe-winning, Oscar-nominated hit "Frozen," the soundtrack features all-star vocalists.
These include Kermit the Frog, Ricky Gervais, Ty Burrell, Tina Fey, Miss Piggy, Josh Groban, Constantine and Celine Dion. Walt Disney Records will release the "Muppets Most Wanted" soundtrack March 18, three days before the movie hits theaters.
[ Also Read: Lipton Partners Disney Muppets for Academy Awards ]
"The 'Muppets Most Wanted' soundtrack is some of the best music by a frog, pig, bear, chickens, penguins and a—uh, whatever—ever recorded," said Kermit the Frog. "It's like going on tour with the Muppets, but without the messy cleanup afterwards."
According to McKenzie, who wrote songs for the Muppets' last big-screen adventure, the songs are true to the Muppets' musical reputation: they're packed with puns, punch lines and Muppets mayhem. "All of the songs are quite story specific," he said. "They're very character driven.
The soundtrack features a host of show pieces, including the fully orchestrated "We're Doing a Sequel," with special appearances by Lady Gaga and Tony Bennett, along with the whole Muppets gang, and "Something So Right," a ballad written for Miss Piggy and celebrated performer Celine Dion.
"Miss Piggy is wonderful," said Dion. "She's so charming and sensitive and filled with passion. She has a big heart and it was wonderful to sing with her."
[ Also Read: Now Watch Disney, Pixar, and Marvel Movies Anywhere ]
Disney's "Muppets Most Wanted" takes the entire Muppets gang on a global tour, selling out grand theaters in some of Europe's most exciting destinations, including Berlin, Madrid, Dublin and London.
But mayhem follows the Muppets overseas, as they find themselves unwittingly entangled in an international crime caper headed by Constantine—the World's Number One Criminal and a dead ringer for Kermit the Frog—and his dastardly sidekick Dominic, aka Number Two, portrayed by Ricky Gervais.
The film stars Ty Burrell as Interpol agent Jean Pierre Napoleon and Tina Fey as Nadya, a feisty prison guard.
Disney's "Muppets Most Wanted" is directed by James Bobin and produced by David Hoberman and Todd Lieberman. Bobin wrote the screenplay with Nicholas Stoller, who is also executive producer with John G. Scotti.
Featuring music from Academy Award-winning songwriter Bret McKenzie, "Muppets Most Wanted" hits the big screen March 21, 2014.