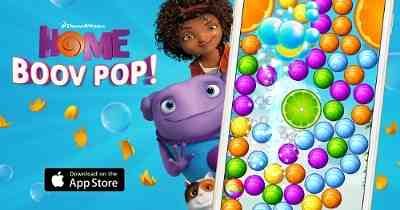 Emerging mobile publisher Behaviour Interactive has released its new title: HOME: Boov Pop!, the official puzzle game based on DreamWorks Animation's 3D comedy adventure HOME.
This free-to-play casual game offers a new twist to the puzzle genre, by adding a gravity-based design combined with 3D graphics to create a new gaming experience.
You can play as Oh, Tip and Captain Smek as they battle their intergalactic enemy across three settings: Paris, Asia and Florida. Connect power bubbles for epic chain reactions and use each character's special ability to maximise your score.
[ Also Visit: Robojit and the Sand Planet – The Story of the Future Universe ]
Based on the book The True Meaning of Smekday by Adam Rex, HOME hits theaters on March 27, 2015.
When Oh, a loveable misfit from another planet, lands on Earth and finds himself on the run from his own people, he forms an unlikely friendship with an adventurous girl named Tip who is on a quest of her own.
Through a series of comic adventures with Tip, Oh comes to understand that being different and making mistakes is all part of being human, and together they discover the true meaning of the word HOME.
You can download HOME: Boov Pop! Founded in 1992, Behaviour Interactive is an independent game developer.