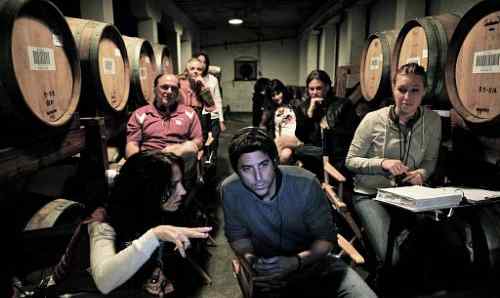 Veteran screenwriter Tedi Sarafian (Tank Girl, Terminator 3) makes his directorial debut with Altergeist, recently selected to screen at FrightFest, the UK's top genre fest, August 21-25.
After its world premiere at the 2014 Brussels International Fantastic Film Festival, Altergeist promises to give audiences something more than the stagnant status quo replicating itself in the horror genre.
"We weren't interested in making another horror film where something jumps out from under the bed," Sarafian told audiences in Brussels, "and we weren't interested in making a movie where the ghosts are seemingly these diabolical evil things. We thought let's flip that around."
"Altergeist is a supernatural thriller that bends the genre, and delivers a twist you never see coming," Sarafian claims.
[ Also Read: Universal Classic Monsters: Complete 30-Film Collection ]
Altergeist follows Theresa Augland and her group of paranormal investigators as they search for evidence of the other side at the famously haunted King's Ransom winery (Korbel Champagne Cellars).
As a mysterious entity causes long-buried memories and deep-seated fears to bubble to the surface, the group begins to turn on each other. Uncovering the horrifying truth, Theresa learns that even the ghosts of the winery fear the truly sinister presence that has haunted the family estate for generations.
[ Also Visit: Movie Mate – For Your Film Promotion ]
Altergeist was shot entirely on location at the historic Korbel Champagne Cellars, established in 1882 and is based on true-life events that took place on the vineyard grounds.
Altergeist will play on August 25th, 10:30 pm at The Vue West End, Leicester Square London.
[ Also Read: Coming Soon: Sequel to Horror Film Don't Look in the Basement ]
Altergeist stars Kristina Anapau (Cursed, True Blood), Mark Hapka (Days of Our Lives), Linsey Godfrey (The Bold and Beautiful, House Bunny), Alexis Cruz (Stargate, Drag Me to Hell), Sarah Oh (The Crypt), Brendan Fletcher (Freddy vs Jason, Rampage, Ginger Snaps) David Weidoff (Roommates), Jessica Spotts (Monday Morning), Olivia Stuck (Last Vegas) and Richard Sarafian Jr. (Terminal Velocity).
In the picture above: Writer / Director Tedi Sarafian works with his crew on the set of supernatural thriller, ALTERGEIST, in the barrel room of Korbel Champagne Cellars.
Photo courtesy: HeckArt Studios