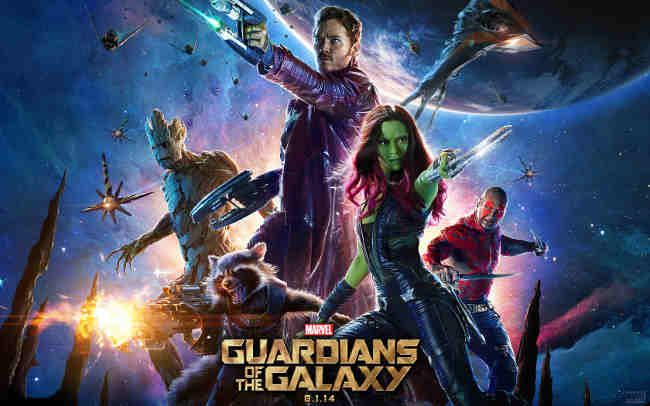 Disney / Marvel's 'Guardians of the Galaxy' made its global debut with $160.4 million box office revenues.
Rentrak Corporation (NASDAQ: RENT), which measures the performance of movies, announced Sunday the worldwide weekend box office estimates for the weekend of Aug. 3, 2014.
The sales data is compiled by the company's Box Office Essentials and International Box Office Essentials theatrical measurement services.
"Star Lord and his pals boosted the summer box office as Disney / Marvel's 'Guardians of the Galaxy' enjoys a massive global debut of $160.4 million in 43 territories, topping the international chart with $66.4 million and the North American box office with the highest August debut ever of $94 million," said Rentrak's senior media analyst Paul Dergarabedian.
"Notably, Paramount's 'Transformers: Age of Extinction' has joined the elite billion dollar top 20 global box office club."
According to Rentrak, the top-12 domestic (U.S.) weekend box office estimates listed in descending order, per data collected as of Sunday, Aug. 3, 2014, are below.
1. Guardians Of The Galaxy – Disney – $94.0M
2. Lucy – Universal – $18.3M
3. Get On Up – Universal – $14.0M
4. Hercules – Paramount – $10.7M
5. Dawn Of The Planet Of The Apes – 20th Century Fox – $8.7M
6. Planes: Fire and Rescue – Disney – $6.4M
7. Purge: Anarchy, The – Universal – $5.6M
8. Sex Tape – Sony – $3.5M
9. And So It Goes – Freestyle Releasing – $3.3M
10. Most Wanted Man, A – Roadside Attractions – $3.3M
11. Boyhood – IFC Films – $2.5M
12. Transformers: Age Of Extinction – Paramount – $2.2M
Rentrak is the entertainment and marketing industries' leading provider of worldwide consumer viewership information, measuring actual viewing behavior of movies and TV everywhere.
Photo courtesy: Disney / Marvel