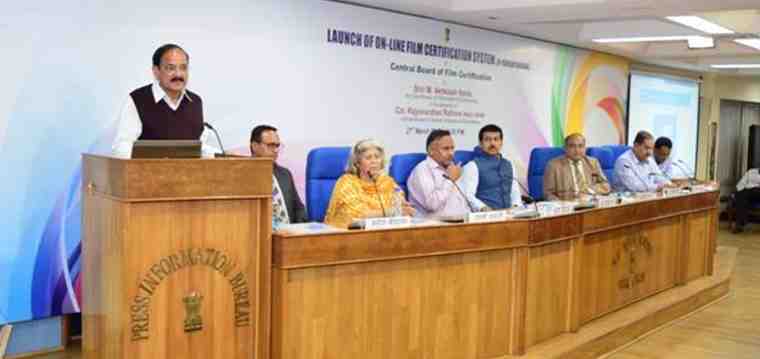 India's Minister for Information and Broadcasting, M. Venkaiah Naidu, said Monday that the Online Film Certification System of CBFC would facilitate Prime Minister Narendra Modi's vision of Ease of Doing Business and Digital India.
The complete automation of the Film Certification Process is supposed to enable Good Governance making the entire process transparent and efficient.
The objective is to eliminate the need for human interface to the extent possible. The new online certification system would be an important step in making the CBFC office paperless and would enable effective monitoring and real time progress tracking for both CBFC Officials and the applicant (Producers).
[ Dwarka Campaign to Stop Pollution in Delhi Gathers Momentum ]
More online initiatives would be introduced in the Ministry as part of the roadmap for transparent Governance. The Minister stated this at the launch function of the Online Film Certification System of CBFC on Monday.
The Film Facilitation Office (FFO) established by the Ministry in Nov 2015 provided Single window clearance to facilitate film shootings by foreign film makers in India.
A total of 41 shooting Permissions were given for foreign films / projects in 2016 which was approximately 33% increase over 2015.
[ MCD Election: Which Party Can Save Delhi from Impending Disaster? ]
The Ministry of I&B has also simplified the Annual Renewal process for existing TV channels wherein permitted broadcasters can continue their operations by paying annual fee upto 60 days before the due date for continuation of the channel for a further period of 1year.
The payment can now be made online through Bharat Kosh Portal since 1st January, 2017.
Naidu, while emphasizing on the need to keep pace with paradigm change in technology and current industry trends, said that the film industry in India has been growing at a significant pace with a noticeable increase in the number of films getting released every year.
The changes in the current processes of CBFC would ensure better facilitation and technological upgradation to match-up with the pace of Indian cinema.
Photo courtesy: Press Information Bureau