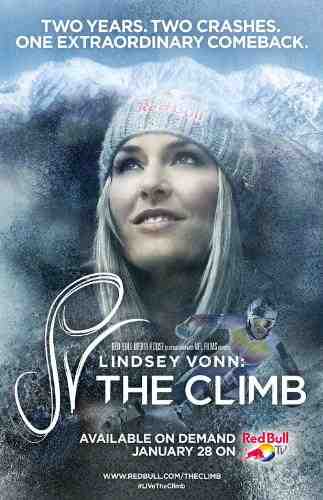 Lindsey Vonn: The Climb, a one-hour documentary which chronicles the comeback of Olympic Downhill Champion Lindsey Vonn, will be available on demand starting Wednesday, January 28th on Red Bull TV, a digital video service available online, mobile and on select partner platforms including Apple TV and Xbox 360.
Produced by Red Bull Media House, in association with NFL Films and NBC Olympics, the film will give viewers an inside look into the past 22 months of Vonn's career.
Lindsey Vonn: The Climb documents Vonn's journey as she recovered from two devastating injuries, and returned to the top of the podium at a 2014 World Cup downhill race in Alberta, Canada, a critical milestone as she pursues more victories at the upcoming 2015 World Championships in early February, in her hometown of Vail, Colorado.
Lindsey Vonn: The Climb features never-before-seen video of Vonn's second crash. Cameras take viewers into the operating room as renowned orthopedic surgeon Dr. James Andrews repairs the superstar athlete's knee.
The film then follows Vonn's physical and emotional struggles as she attempts to return to the top of her sport, while remaining in the spotlight as her sport's biggest star.
With extraordinary access into her life, Lindsey Vonn: The Climb documents Vonn's nearly two years of grueling rehabilitation, including her rehab sessions at the U.S. Ski Team's training facilities in Vail, Colo., training camps and competitions in Chile and across Europe, and the photo shoots and red carpet events that come with her stardom.
Vonn, the most successful ski racer in American history, is the only American woman ever to win Olympic gold in the women's downhill, which she accomplished at the 2010 Vancouver Olympics where she also won bronze in the women's super-G.
In addition, Vonn has five world championship medals and 61 World Cup victories, which is currently just one behind the all-time record of 62 by Austrian great Annemarie Moser-Proll.