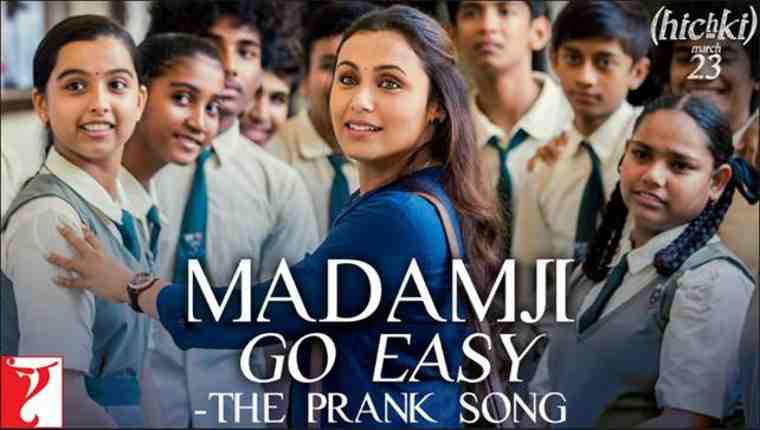 The new song Madamji, Go Easy from Rani Mukerji starrer Hichki is now available on YouTube. Featuring her onscreen students, the motley crew of section 9F, this song from Hichki captures the irreverent, rebellious and energetic spirit of these young adults grappling with life in the basti, their poor neighborhood.
Sung by Benny Dayal and David Klyton, and with lyrics by Raj Shekhar and David Kylton, the Madamji, Go Easy is a rap meets desi hip hop track, reflecting a popular organic music form that has emerged from India's slums and poorer urban neighborhoods.
With catchy lyrics like "Sab wi-fi, hum 3G" and colloquial Mumbai terms like "Matha Pacchi", this Hichki song has the thump and beat of popular street poetry. The class of 9F is made up of 14 onscreen students representing fresh, raw energy of youth.
[ 50 Volunteers Wanted for New Education Campaign in Delhi ]
Rani plays the character of Naina Mathur who has a nervous system disorder, Tourette Syndrome that forces an individual to make involuntary repetitive movements or sounds.
Hichki focusses on turning disadvantages into opportunities and staring down at challenges that life throws at one and ultimately winning over them.
It is also a subtle reminder about discrimination that exists in our society and has become a part of our daily lives. It highlights this through the story of Naina, who faces discrimination from our society that firmly believes she cannot be a teacher because of her disorder.
Directed by Siddharth P Malhotra and produced by Maneesh Sharma, the movie is set to release on March 23.