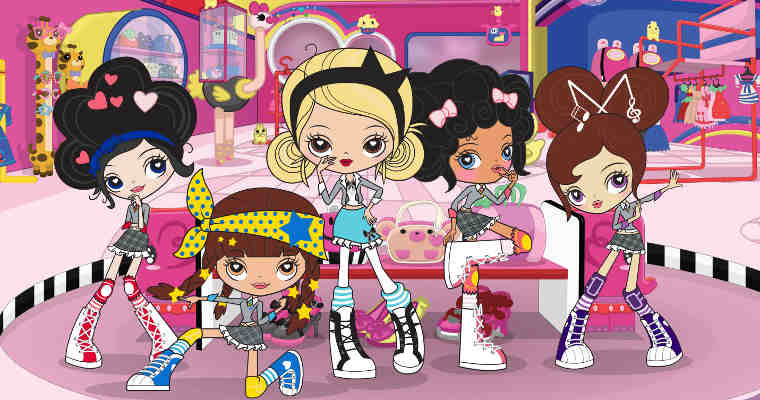 Nickelodeon announced Tuesday superstar Gwen Stefani's animated series Kuu Kuu Harajuku will premiere exclusively on the network in the U.S. beginning Monday, Oct. 3, at 4 p.m.
The 26-episode series, co-created and executive produced by Stefani, follows the kuu kuu adventures of the band HJ5 — Love, Angel, Music, Baby and G — through their super cute world of music, fashion and style.
Kuu Kuu Harajuku will air at 4 p.m. through Friday, Oct. 7, and continue with premieres in its regular timeslot of Saturdays at 8:30 a.m. on Nickelodeon.
Kuu Kuu Harajuku follows Love, Angel, Music, Baby and their inspirational leader, G, as they form the super-talented band, HJ5.
[ Request for Help to Open Free School for Poor Children ]
Thanks to their manager Rudie, angry aliens, NoFun politicians, hungry monster pets, and other obstacles, every gig is interrupted and the girls never get to complete a concert — but G and her friends never give up.
In the series premiere, "Totally Teen Genie," Angel releases a Teen Genie with attitude and tries to use her three wishes to help HJ5 win a Totally Teen Awards Golden Hoodie trophy. Then in "Angel's Flight," Angel's determined to restore her reputation after an unflattering picture appears online.
The original idea and inspiration for the 2D animated series came from Grammy Award-winning musician Stefani and her love of pop art and life-long admiration for the street fashion and creative youth culture found in the renowned Harajuku neighborhood of Tokyo, Japan.
[ What Is Digital Marketing? ]
It was while writing her first solo album that Stefani created the original Harajuku Girl characters as a celebration of the creativity and individualism she saw and loved in the Harajuku District.
Fans in the U.S. can visit Nick.com and the Nick App to learn more about the series and its characters. A full episode of Kuu Kuu Harajuku is available on Nick.com and the Nick App.
The series is co-created and produced by Moody Street Kids (Australia), Vision Animation (Malaysia) and Gwen Stefani and commissioned by Network Ten with investment funding from Film Victoria (Australia) and MyCreative Ventures (Malaysia).
DHX Media, the world's leading independent, pure-play kids' content company, handles international distribution for Kuu Kuu Harajuku, and licensed the series to Nickelodeon, which is an entertainment brand for kids.