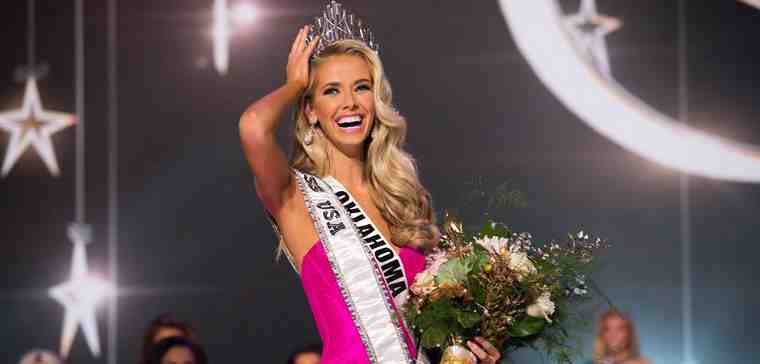 A panel of former Miss Universe Organization titleholders chose Sunday Miss Oklahoma USA, Olivia Jordan, as Miss USA 2015.
Emmy Award-winning game show host Todd Newton and former Miss Wisconsin USA 2009 Alex Wehrley hosted the competition. OK! TV's Julie Alexandria provided backstage behind-the-scenes commentary from the Baton Rouge River Center in Baton Rouge, Louisiana.
Olivia Jordan, a 26-year-old from Tulsa, Oklahoma, has appeared in several national and international commercials and feature films.
Olivia is a graduate of Boston University, where she earned a degree in health science. As a model, Olivia has walked for Sherri Hill in New York Fashion Week 2015 and the runway at Miami Mercedes-Benz Fashion Week Swim 2014.
She has also been featured in Cosmopolitan, Shape and Vogue Japan. Olivia has been recognized by Children of the Night, a group dedicated to getting children out of prostitution, for her work with the organization.
The 2015 MISS USA Pageant featured contestants from all 50 states and the District of Columbia. Contestants were judged in three categories: swimsuit, evening gown, and interview. Nia Sanchez, Miss USA 2014 crowned her successor at the conclusion of the three-hour telecast.
Photo / Video courtesy: The Miss Universe Organization