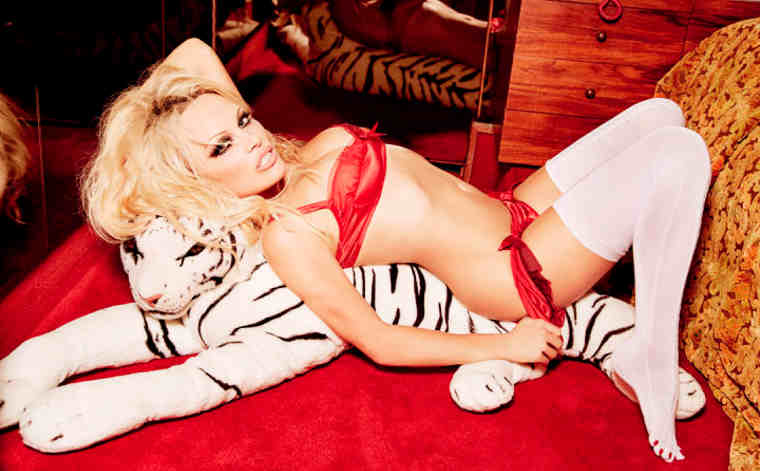 Playboy magazine announced Thursday that its January / February 2016 double issue, the magazine's last nude version, will feature Pamela Anderson both on its cover and in a 12-page pictorial inside. The issue will come on newsstands Friday, December 11, 2015.
This is the 14th Playboy cover appearance and 15th Playboy pictorial for the Playmate, actress, activist and icon. Her historic shoot was photographed at the Playboy Mansion by Ellen von Unwerth, and is accompanied by an interview conducted by Playboy Contributor James Franco.
[ Playboy Says "No" to Nudity ]
Pamela previously appeared on the following Playboy covers: October 1989; February 1991; July 1992; August 1993; November 1994; January 1996; September 1997; June 1998; February 1999; July 2001; May 2004; January 2007; and January 2011. Pamela was also featured as Playboy's Playmate of the Month in the magazine's February 1990 issue.
Playboy's editorial team is in the midst of a top-to-bottom redesign that will be unveiled with the magazine's March 2016 issue.
[ Playboy NOW – a New, Non-Nude Mobile App ]
The reimagined Playboy magazine will include a modern editorial and design approach, and, for the first time in its history, will no longer feature nudity in its pages.
Playboy will continue to publish sexy, seductive pictorials of the world's most beautiful women, including its iconic Playmates, all shot by some of today's most renowned photographers.
The magazine will also remain committed to its mix of long-form journalism, interviews and fiction.
You can see the complete interview, pictorial outtakes, and behind-the-scenes video available now on Playboy site.
Photo courtesy: Playboy