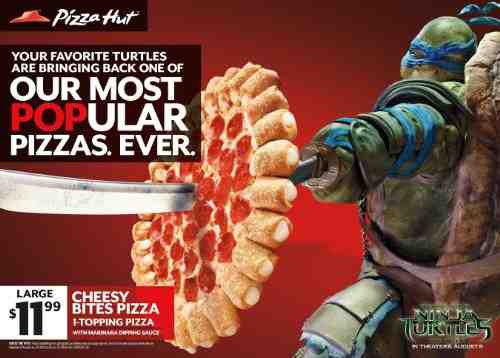 Pizza Hut and the Teenage Mutant Ninja Turtles will join forces on a summer-long promotion. The partnership will celebrate the return of Pizza Hut pizza: Cheesy Bites and the arrival of the new movie featuring the pizza loving Turtle brothers.
The film is appearing in theaters on August 8th from Paramount Pictures.
Pizza Hut will offer a large one-topping Cheesy Bites pizza for $11.99 beginning July 7 as the featured product during the promotion.
The 2014 partnership with Pizza Hut and the Ninja Turtles live action film delivers a high tech offering to engage customers including augmented reality, digital videos, hidden menus, custom pizza boxes and even a throwback to a super fan favorite – The Pizza Thrower vehicle at live events.
[ Click here for Advanced Digital Marketing Services ]
The Pizza Hut campaign around the big screen return of the Turtles will be supported with a custom national television spot featuring the Turtles invading a Pizza Hut test kitchen.
"We just couldn't seem to keep the Turtles from devouring all the Pizza Hut pizza on set," commented LeeAnne Stables, executive VP of Marketing Partnerships at Paramount Pictures. "This national partnership delivers so many cool and innovative ways for Ninja Turtle fans to take part in the excitement around the film release."
To kick off the promotion, Pizza Hut will host a #TBTMNT (Throwback Teenage Mutant Ninja Turtles) promotion on its Twitter and Instagram channels where fans are encouraged to post their old turtle swag or turtle costumes for chances to win gift cards and other prizes. More information can be found on the Pizza Hut Twitter channel.
[ Also Read: How to Use Social Media to Have Free Domino's Pizza for a Year ]
Leading up to the premiere of the Ninja Turtles movie, fans can learn the "turtle way" to cut a pizza "Katana Style" via a "Katana Cut" training video. Fans will then be able to order a pizza cut this way – in four Ninja Turtle-size slices instead of eight – to draw a closer experience to the film.
In addition, the box topper for Cheesy Bites Pizzas will feature an augmented reality experience for customers at home. Fans will have a chance to unlock extended footage from the movie and additional content through an interactive AR experience.
[ Also Visit: Movie Mate – For Your Film Promotion ]
All digital assets will also be housed on a new Tumblr page hosted by Pizza Hut. The page will provide an arena for fans of pizza and the Ninja Turtles to showcase memories and stories related to the Turtles and Pizza Hut for other enthusiasts around the world to enjoy.
Pizza Hut will include an exclusive online only "hidden menu" that features unique Cheesy Bites Pizza recipes inspired by the personality of each Ninja Turtle.
The "Teenage Mutant Ninja Turtles" film is a modern-day iteration of the popular franchise. The Turtles must work with fearless reporter April O'Neil (Megan Fox) and her wise-cracking cameraman Vern Fenwick (Will Arnett) to save New York City and unravel Shredder's diabolical plan.
Based on the Teenage Mutant Ninja Turtles characters created by Peter Laird and Kevin Eastman, written by Josh Appelbaum & André Nemec and Evan Daugherty, Teenage Mutant Ninja Turtles is produced by Michael Bay (director and executive producer of the blockbuster Transformers franchise), Andrew Form, Brad Fuller, Galen Walker, Scott Mednick and Ian Bryce, and directed by Jonathan Liebesman (Wrath of the Titans).