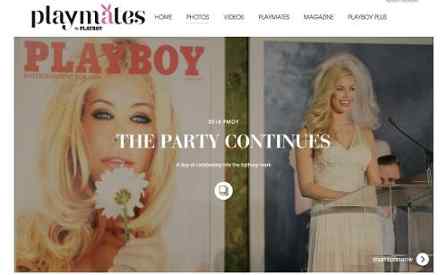 On the heels of Playboy Playmate Kennedy Summers being named the company's 2014 Playmate of the Year, Playboy Enterprises, Inc. today unveiled Playmates.com.
It is a brand new website featuring the beautiful women who for 60 years have helped define an iconic global lifestyle brand, says the company.
Playmates.com is a provocative, interactive, mobile device-enhanced, non-nude digital destination for fans who want to learn more about the alluring women who have graced the centerfolds of the U.S. magazine and its many international editions.
[ Also Read: Playboy and Pitbull Join Hands for Wild Wild Love ]
As the content on the site continues to build, visitors to Playmates.com will have access to an exhaustive compendium of images of Playmates from every era, including bonus content which will be updated daily.
The site also allows users to share content via a variety of social media platforms, including Twitter, Instagram and Facebook.
Playmates.com will also introduce a number of regular features that are only available on the new site. Some of the site's initial franchises include:
15 Seconds – A 21st century video version of the magazine's "Playmate Data Sheet."
Playmate Redux – A seductive, "Where Are They Now?" gallery featuring Playboy's most popular Playmates.
Playmate of the Day – A daily dose of Playmates that showcases stunners from a particular month from all the eras of the magazine.
Dear Aly – A weekly video blog hosted by Playboy's Miss May 2006 Alison Waite, featuring dating, relationship and sex advice.
"Playmates.com provides both our readers and Playmates alike with a fun platform to engage, share, reminisce and connect with an American cultural phenomenon," said David Israel, chief operating officer and president of Playboy Media.
"I know I speak for my fellow Playmates when I say that we are all really thrilled about Playmates.com," said Kennedy Summers, Playboy's 2014 Playmate of the Year.
"With all of the original content and features on the site, Playmates.com is a brand new avenue for us to stay engaged with our fans and it offers them a cool new way to connect with us."
Playboy Enterprises, Inc. is a media and lifestyle company.