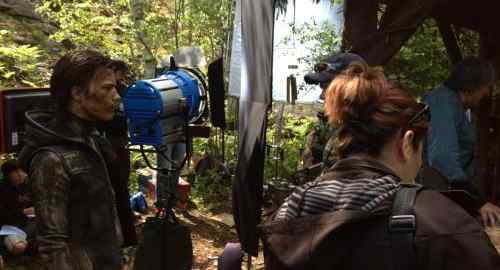 SUKI Films announced Wednesday that principal photography has commenced on ESC, directed by Alain DesRochers (Nitro, Gerry). The film is shooting in Sudbury Ontario, Canada.
The screenplay was written by Robert Higden. Kimberley Berlin and Susan Schneir are producing through their SUKI Films banner (The High Cost of Living, The Good Lie), with Jason Jallet and Benjamin Paquette as co-producers through their Nortario Films Banner.
Francois Garcia (John McAfee Biopic), Walter Klymkiw (The High Cost of Living, The Good Lie) are executive producing.
[ Also Read: Shooting Starts on Whitey Bulger Film Starring Johnny Depp ]
In the film, Darwin – a young man living the technologically cloistered life of the future – is forced out into the real world-discovers truths about that world and his own life that he never dreamed of.
SUKI Releasing is handling the film's domestic distribution while Kathy Morgan International will handle sales to the rest of the world.
The film is produced in association with Northern Ontario Heritage Fund, Impact Future Media, Telefilm Canada, The Harold Greenberg Fund, Ontario Media Development Corporation, TMN, Corus and Super Ecran.
[ Also Read: Lionsgate to Produce Allegiant Films from Veronica Roth's Book ]
The film stars Molly Parker (House of Cards, The Firm) as Lillian, Nick Krause (The Descendants, Parenthood) as Darwin, Juliette Gosselin (Les Jeunes Loups , Martyrs) as Dara, Jordyn Negri as Beth, Daniel DiVenere as Steven, Cassidy Marlene Jaggard as Susie, and John McAfee providing off screen computer voice narration.
[ Also Visit: Robojit and the Sand Planet – The Story of the Future Universe ]
The behind-the-scenes creative team includes cinematographer Tobie Marier Robitalle, production designer David Blanchard, costume conception by Carmen Alie, and VFX by Digital Dimension producer Peter Skovsbo.
ESC is to be released in Theaters and multiple platforms in summer 2015.
Photo courtesy: Impact Future Media