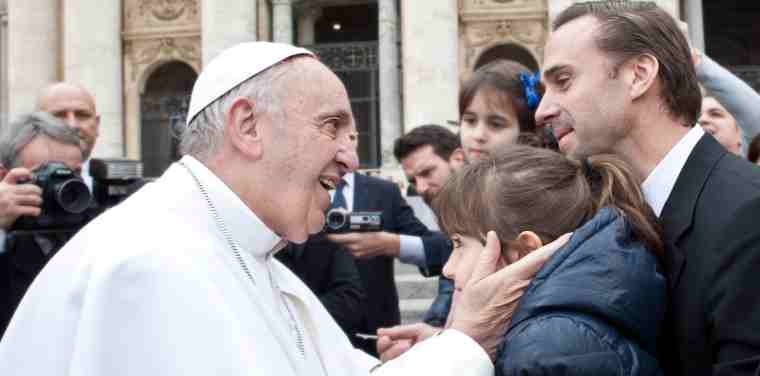 Joseph Fiennes, star of Sony Pictures' new film release Risen, met Pope Francis in Vatican City on Wednesday.
Fiennes is in town with actress Mario Botto and the producers to promote Risen, which opens in theaters in the U.S. on February 19th. The film will be screened at the Vatican today.
Risen is the epic Biblical story of the Resurrection and the weeks that followed, as seen through the eyes of an unbelieving Clavius (Joseph Fiennes), a high-ranking Roman Military Tribune.
[ Who Is Supreme – Allah or Jesus? ]
Clavius and his aide Lucius (Tom Felton) are instructed by Pontius Pilate to ensure Jesus' radical followers don't steal his body and claim resurrection.
When the body goes missing within days, Clavius sets out on a mission to locate the missing body in order to disprove the rumors of a risen Messiah and prevent an uprising in Jerusalem.
Affirm Films (a Sony Pictures Entertainment company) originally acquired worldwide rights from LD Entertainment on Risen and will release the film in association with Columbia Pictures and LD Entertainment.
[ Also Read: How India Abuses Children's Right to Education ]
Starring Fiennes (Shakespeare in Love), Tom Felton (Harry Potter), Peter Firth ("Spooks") and Cliff Curtis (Live Free or Die Hard), and Maria Botto, and directed by Kevin Reynolds (Robin Hood: Prince of Thieves), the action drama will be released in theaters on Friday, February 19, 2016.
Risen's screenplay is by Kevin Reynolds and Paul Aiello from a story by Paul Aiello. It is produced by Mickey Liddell (The Grey), Patrick Aiello (As Above, So Below), and Pete Shilaimon (In Secret), and executive produced by Robert Huberman and Scott Holroyd.