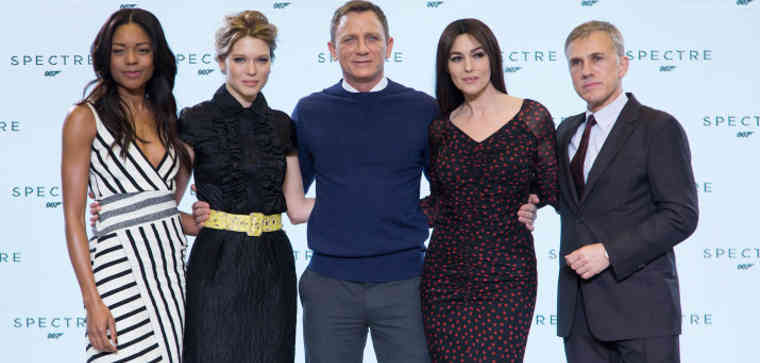 By Rakesh Raman
The latest vlog from the set of Spectre focuses on a car chase in Rome between the Aston Martin DB10 and the Jaguar C-X75.
The video features Director Sam Mendes, actor Dave Bautista (Mr. Hinx), Special Effects Supervisor Chris Corbould, Stunt Coordinator Gary Powell, and Action Vehicles Technical Coordinator Neil Layton.
"I love the idea of this fantastic car being in a one-on-one battle with another incredible car from Jaguar, which is similarly extraordinary actually," says Sam Mendes. "So it's a cat-and-mouse game through the night time streets of Rome, at great speed, between two of the fastest cars in the world."
[ Watch Footage of Bond Film Spectre from Austrian Mountains ]
"It's amazing. It's one of those scenes that's going to be very iconic," adds Dave Bautista. "Just with the two cars racing through the streets of Rome – I mean, how often do you see that? It's one of those things you only see in a James Bond film."
Sony Pictures Entertainment also has released the teaser trailer of the action thriller Spectre, an upcoming James Bond film.
The film, from Albert R. Broccoli's EON Productions, Metro-Goldwyn-Mayer Studios, and Sony Pictures Entertainment, is directed by Sam Mendes and stars Daniel Craig, who returns for his fourth film as Ian Fleming's James Bond 007.
Recently, Stephanie Sigman joined the cast of Spectre as Estrella. The Mexican actress had the lead role in the Academy Awards nominated Miss Bala (2011).
[ Also Read: James Bond Daniel Craig Gets UN 'Licence to Save' ]
Spectre
A cryptic message from Bond's past sends him on a trail to uncover a sinister organisation. While M battles political forces to keep the secret service alive, Bond peels back the layers of deceit to reveal the terrible truth behind Spectre.
Spectre is produced by Michael G. Wilson and Barbara Broccoli, from a script by John Logan and Neal Purvis and Robert Wade.
It follows the release of Skyfall, claimed to be the biggest Bond film of all time, which took in $1.1 billion worldwide.
Spectre began principal photography in December 2014, and is set for global release on November 6, 2015.
By Rakesh Raman, the managing editor of RMN Company
You also can read: More Articles by the RMN Editor, Rakesh Raman