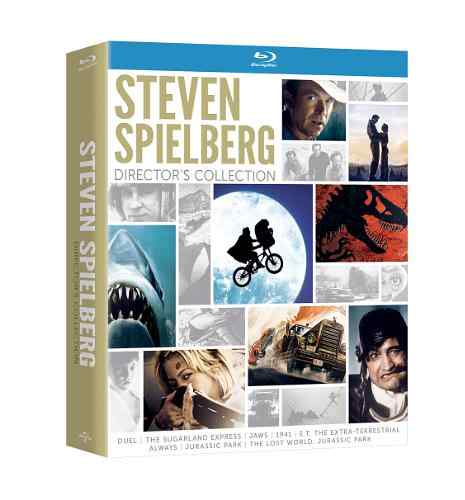 Eight memorable films from one of the most acclaimed directors in motion-picture history come together for the first time ever in the Steven Spielberg Director's Collection, available on Blu-ray and DVD on Oct. 14, 2014, from Universal Studios Home Entertainment.
Since beginning his long and distinguished career on the Universal backlot more than 40 years ago, Spielberg has gone on to direct an unprecedented number of some of the biggest box office hits and critically acclaimed films in cinematic history.
The Steven Spielberg Director's Collection showcases some of the most unforgettable movies the three-time Academy Award winner made for Universal, including his debut film Duel, which has been digitally remastered and restored and will be presented in widescreen for the very first time in the U.S. and Canada.
[ Also Read: Universal Classic Monsters: Complete 30-Film Collection ]
The eight films featured include (*Denotes First Time on Blu-ray):
Duel* (1971)
A traveling salesman (Dennis Weaver) is terrorized by an unseen trucker on a remote desert highway.
The Sugarland Express* (1974)
A mother (Goldie Hawn) desperately attempts to reunite her family by helping her husband escape prison and kidnapping their son.
Jaws (1975)
When a seaside community is under attack by a great white shark, the chief of police (Roy Scheider), a marine biologist (Richard Dreyfuss) and a shark hunter (Robert Shaw) embark on a quest to destroy the beast.
1941*- Theatrical & Extended Version (1979)
Pandemonium erupts in Los Angeles after the WWII attack on Pearl Harbor in this wartime spoof starring Dan Aykroyd and John Belushi.
E.T. The Extra-Terrestrial (1982)
A lost alien from space befriends a 10-year-old boy (Henry Thomas) who helps him find a way home.
Always* (1989)
After sacrificing himself to save a friend (John Goodman), a daredevil firefighting pilot (Richard Dreyfuss) returns to earth to help his surviving girlfriend (Holly Hunter) move on with the help of an angel (Audrey Hepburn).
Jurassic Park (1993)
Journey to an amazing theme park on a remote island where dinosaurs once again roam the earth and five people must battle to survive among the prehistoric predators. Starring Sam Neill, Laura Dern, Jeff Goldblum, Samuel L. Jackson and Sir Richard Attenborough.
The Lost World: Jurassic Park (1997)
Four years since the disaster at Jurassic Park, two groups are in a race against time that will determine the fate of the remote island's prehistoric inhabitants. Starring Jeff Goldblum, Julianne Moore, and Vince Vaughn.
Universal Studios Home Entertainment is a unit of Universal Pictures, a division of Universal Studios.