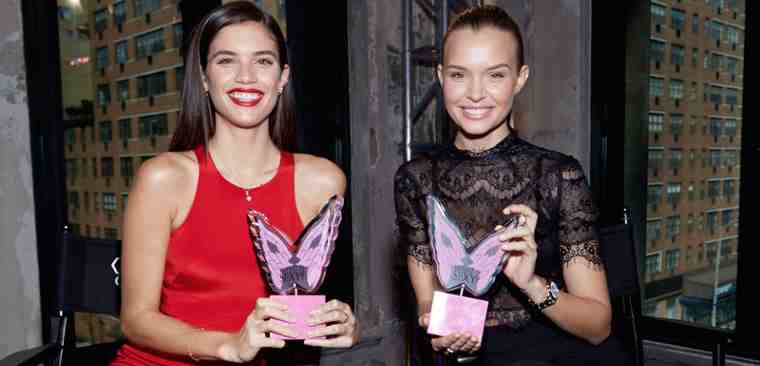 Style, attitude and confidence describe the women who grace Victoria's Secret's 2016 What Is Sexy? List.
Victoria's Secret compiled its picks of the fiercest and most inspiring women in Hollywood who embody an aspirational lifestyle. From Sexiest Actress to Sexiest Mogul, the women who made the highly-anticipated list are all sexy, bold, and powerful:
Forever Sexy:

Jennifer Lopez

Sexiest Actress: Kerry Washington

Sexiest Songstress:

Demi Lovato

Sexiest Style Risk-Taker: Kylie Jenner

Sexiest Legs: Julianne Hough

Sexiest Bikini Babe: Hailey Baldwin

Sexiest Smile:

Maria Menounos

Sexiest Eyes:

Priyanka Chopra

Sexiest Lips: Ellie Goulding

Sexiest International Import: Alicia Vikander

Sexiest Sense of Humor: Rashida Jones

Sexiest Red-Carpet Look:

Selena Gomez

Sexiest Mogul:

Sofia Vergara

Sexiest Music Tour: Taylor Swift – 1989

Sexiest TV Cast: Quantico

Sexiest Athlete: Alex Morgan

Sexiest Furry Friend: Pippa

Sexiest U.S. City: Nashville

Sexiest International City:

Paris
To complete the 2016 list, Victoria's Secret asked fans via Twitter for their Sexiest Social Star picks. This year's Fan Vote Category Winners, include:
Sexiest Fitness Star: Hannah Bronfman, HBFIT.com

Sexiest Beauty Star: Zoe Sugg, YouTube: Zoella

Sexiest Fashion Star: Sonya Esman, ClassIsInternal.com
This season at Victoria's Secret it's all about What's Sexy Now, including the launch of the new Very Sexy Collection and the Very Sexy Now Fragrance.
[ Visit and Support RMN Foundation Free Schools for Children ]
The new Very Sexy Collection revamped for Spring, features new colors and bright fishnet lace accents. The collection comes in an array of styles including unlined demi, lightly-lined demi, high-neck unlined demi, push-up, and fishbone-back detailing. Starting at $49.50, the Very Sexy Collection is available in sizes A-DD.
The limited edition Very Sexy Now Fragrance is a fruity floral blend of coconut water, pink lotus and warm sand accord. Perfect for the sexiest summer yet, this scent includes an eau de parfum, fragrance mist, lotion, and mini mist.
Victoria's Secret invites you to view all that is sexy and the full 2016 What Is Sexy? List.
Victoria's Secret is the leading specialty retailer of lingerie and beauty products.