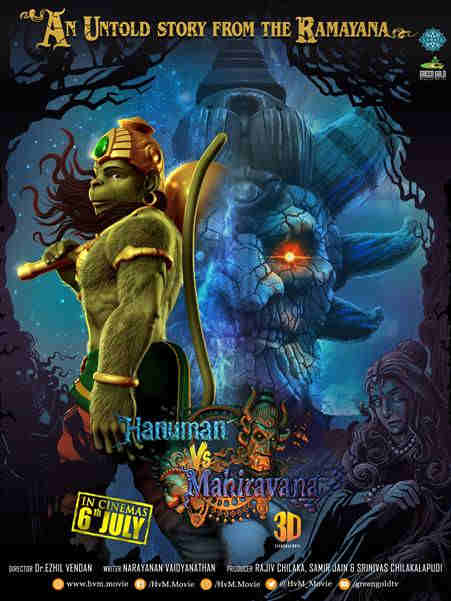 Indian film company in Bollywood Yash Raj Films which is distributing the forthcoming Indian animation films "Hanuman Vs Mahiravana 3D" and "Chhota Bheem: Kung Fu Dhamaka 3D" have pushed the release of "Hanuman Vs Mahiravana 3D" to July 6, 2018 to avoid a clutter of 3D releases.
Produced by animation content company Green Gold Animation, "Hanuman Vs Mahiravana 3D" and "Chhota Bheem: Kung Fu Dhamaka 3D" will be released in Hindi and Tamil languages across India in stereoscopic 3D and normal 2D versions.
Speaking about this decision to delay the film, Rohan Malhotra, Vice President – Distribution, Yash Raj Films said, "Over the past few days, there have been multiple changes in the release schedule of 3D movies so we decided it's best to delay the release of our movie "Hanuman Vs Mahiravana 3D" so we can space the 3D releases in a manner which does not result in competing movies cannibalizing each other's business."
[ Investors Invited for Superhero Project: Robojit and the Sand Planet ]
Elaborating on their distribution deal with YRF, Rajiv Chilaka, CEO of Green Gold Animation said, "YRF is a big and strong partner for us and we have worked together in the past and we are happy that this partnership will bring two amazing stereoscopic 3D animated movies for Indian audiences. "Hanuman vs Mahiravana 3D" is an untold story from the Ramayana and is an action-packed family movie and we are targeting teenage and older audiences with this movie."
The quest to rescue princess Sita is coming to an end as Rama and his army of monkeys make their final push for victory against the demon king Ravana of Lanka.
In the ensuing battle, Rama defeats and disarms Ravana but magnanimously spares his life. That night, Ravana unleashes his most powerful ally; his brother Mahiravana, a dark and powerful sorcerer who rules over the underworld.
Mahiravana's shadow casts a blanket of deception over Rama's army and the unseen enemy captures Rama and Lakshmana. Mahiravana intends to kill the two princes at day break to fulfill a prophecy that will make him invincible. Can Rama's friend Hanuman save them before it is too late?