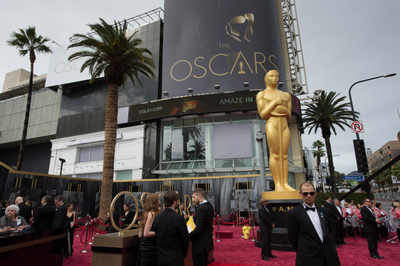 The Academy of Motion Picture Arts and Sciences announced Thursday that 10 animated short films will advance in the voting process for the 88th Academy Awards. Sixty pictures had originally qualified in the category.
The 10 films are listed below in alphabetical order by title, with their production companies:
"

Bear Story (Historia De Un Oso)," Gabriel Osorio, director, and Pato Escala, producer (Punkrobot Animation Studio)

"

Carface (Autos Portraits)," Claude Cloutier, director (National Film Board of Canada)

"

If I Was God…," Cordell Barker, director (National Film Board of Canada)

"

Love in the Time of March Madness," Melissa Johnson and Robertino Zambrano, directors (High Hip Productions and KAPWA Studioworks)

"

My Home," Phuong Mai Nguyen, director (Papy3D Productions)

"

An Object at Rest," Seth Boyden, director (California Institute of the Arts)

"

Prologue," Richard Williams, director, and Imogen Sutton, producer (Animation Masterclass)

"

Sanjay's Super Team," Sanjay Patel, director, and Nicole Grindle, producer (Pixar Animation Studios)

"

We Can't Live without Cosmos," Konstantin Bronzit, director (Melnitsa Animation Studio)

"

World of Tomorrow," Don Hertzfeldt, director (Bitter Films)
Members of the Short Films and Feature Animation Branch viewed all the eligible entries for the preliminary round of voting.
[ Also Read: How Oscars Are Losing Their Sheen ]
Short Films and Feature Animation Branch members will now select five nominees from among the 10 titles on the shortlist.
Branch screenings will be held in Los Angeles, London, New York and San Francisco in December.
The 88th Academy Awards nominations will be announced live on Thursday, January 14, 2016, at 5:30 a.m. PT at the Academy's Samuel Goldwyn Theater in Beverly Hills.
[ RMN Foundation: Friends of the Future Schools in India ]
The 88th Oscars will be held on Sunday, February 28, 2016, at the Dolby Theatre at Hollywood & Highland Center in Hollywood, and will be televised live by the ABC Television Network at 7 p.m. ET/4 p.m. PT.
The Oscar presentation also will be televised live in more than 225 countries and territories worldwide.
Photo courtesy: Academy of Motion Picture Arts and Sciences