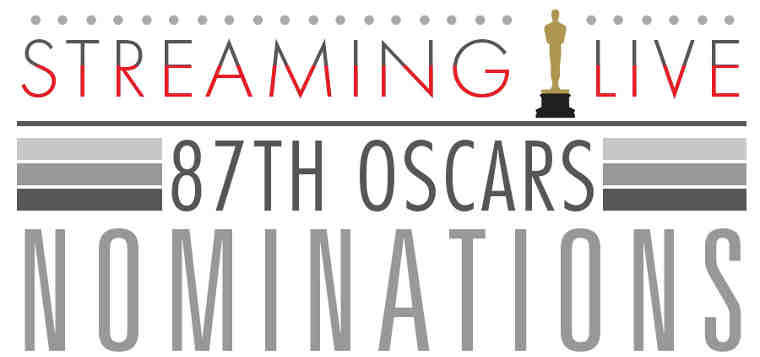 Oscar producers Craig Zadan and Neil Meron have announced that actor Chris Pine, Academy President Cheryl Boone Isaacs, and directors Alfonso Cuarón and J.J. Abrams, on Thursday, January 15, will announce the nominations in all 24 Oscar categories at a special two-part live news conference at the Academy's Samuel Goldwyn Theater in Beverly Hills.
"Each of the three years we've produced the show, we have attempted to refresh elements of the process and the telecast," said Zadan and Meron. "This year, we're honored to start a new tradition that celebrates the contributions of all the nominees by announcing all 24 categories. We're thrilled that a distinguished actor and two world-class film directors are part of the initial launch."
[ Click here for Academy and Oscars News ]
At 5:30 a.m. PT, Cuarón and Abrams will announce the nominees in the following categories: Animated Feature Film, Documentary Feature, Documentary Short Subject, Film Editing, Original Song, Production Design, Animated Short Film, Live Action Short Film, Sound Editing, Sound Mixing and Visual Effects.
At 5:38 a.m. PT, Pine and Boone Isaacs will take the stage to unveil the nominations for Best Actor, Best Actress, Best Supporting Actor, Best Supporting Actress, Cinematography, Costume Design, Directing, Foreign Language Film, Makeup and Hairstyling, Original Score, Adapted Screenplay, Original Screenplay and Best Picture.
The Nominations Announcement is a live news conference where more than 400 media representatives from around the world will be gathered. The event will be broadcasted and streamed live.
Oscars for outstanding film achievements of 2014 will be presented on Oscar Sunday, February 22, 2015, at the Dolby Theatre at Hollywood & Highland Center and televised live on the ABC Television Network at 7 p.m. ET/4 p.m. PT.
The Oscars, produced by Zadan and Meron, also will be televised live in more than 225 countries and territories worldwide.