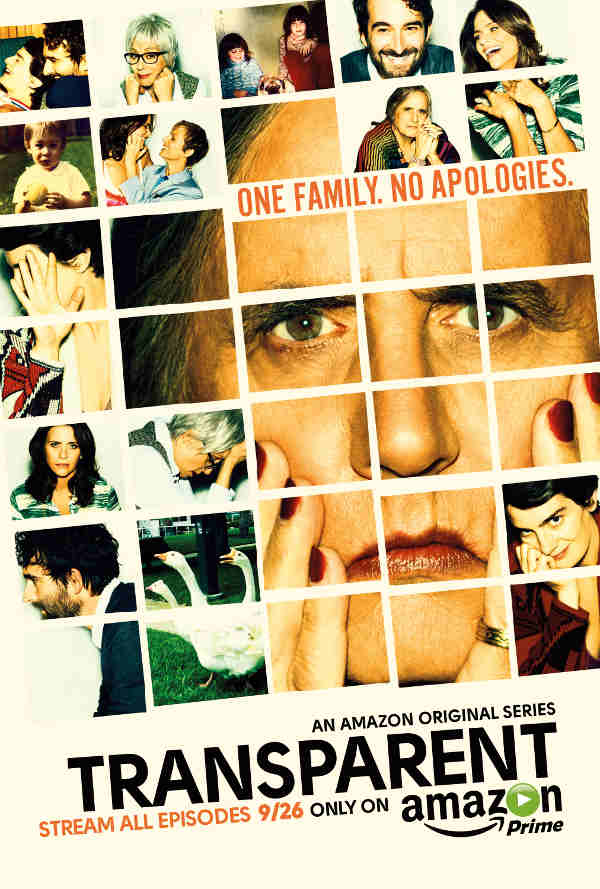 Amazon announced it will premiere all ten episodes of the Jill Soloway (Afternoon Delight, Six Feet Under) dark comedy Transparent on Friday, September 26, exclusively on Prime Instant Video in the US and UK.
Starring Jeffrey Tambor (Arrested Development), Judith Light (Dallas), Gaby Hoffmann (Girls), Amy Landecker (Louie) and Jay Duplass (Togetherness), Transparent follows the Pfeffermans—a Los Angeles family forced to deal with their long-held secrets together.
Written, directed and executive produced by Emmy-nominee and 2013 Sundance Best Director winner Soloway, Transparent is a ten episode, half hour novelistic series that explores family, identity, sex, and love.
The series stars Tambor as Maura, who has spent her life as Mort—the Pfefferman family patriarch. When she reintroduces herself to her family, everyone's secrets finally start to come out.
This includes her ex-wife Shelly (played by Light), and their children—meandering Ali (played by Hoffmann), record producer Josh (played by Duplass), and sexually conflicted Sarah (played by Landecker). Each family member spins in a different direction as they begin to figure out who they are going to become.
Amazon Prime members can watch the first episode of Transparent now via the Prime Instant Video apps for Amazon Fire TV, Kindle Fire tablets, Fire phone, iPad, iPhone, iPod Touch, Roku, Xbox, PlayStation, Wii, as well as other connected devices such as smart TVs—or customers can visit Amazon.com/PIV to watch online.
Prime members can add Transparent to their Watchlist and access new episodes when they premiere on September 26.
Amazon Studios launched in 2010 as a new way to develop feature films and episodic series—one that's open to great ideas from creators and audiences around the world.
Anyone can upload a script and Amazon Studios will read and review all submissions. Those who choose to make their projects public will also receive feedback from the Amazon Studios community.
Comprehensive cast and crew information, including bios and filmographies, is available on Amazon's IMDb, an online destination for movie, TV and celebrity content.