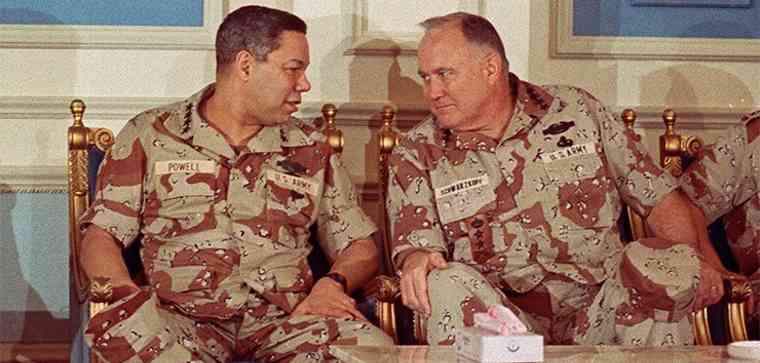 On the heels of President Obama's announcement that the United States' war on terror is far from over, with new air strikes against ISIS in Iraq, and limited troops being deployed to support the Iraqi and Kurdish forces, the National Geographic Channel released Friday a clip from its new documentary, American War Generals, in which retired Gen. Colin Powell reflects on the U.S. military's role in creating a democracy in Iraq and Afghanistan.
"Once you got rid of Saddam Hussein, 24 million Iraqis were standing around saying, 'Who's in charge?'" says Powell of the Iraq War in the clip. "And my own view of it is that, at that point, if we were serious about the effort, if we'd analyzed it properly, we would have realized that we had to, one, not disband the Iraqi army. And we had to put in more American troops to stabilize and secure the society."
---
Related Stories:
In another part of the released clip, in discussing the Afghanistan War, he describes a key to success in military missions: "I think you have to have a clearer understanding of the environment that you're in. And you have to pick an objective that is achievable. You can say, 'Go take that hill,' or, 'Take out the Taliban,' at the moment, but if your goal is to create a functioning democracy, is that the role that a military operation will achieve?"
---
Related Stories:
What President Obama Says on ISIL Terrorism
What Was Hillary Clinton's Role in the Benghazi Attack?
"Burn ISIS Flag Challenge – @BURNISIS – LEBANON حرق علم داعش"
---
Premiering this Sunday, Sept. 14, at 8 p.m. ET/PT, American War Generals unveils the complex world of conflict strategy and decision making from four-star generals.
With unique inside access to America's most elite military leadership, viewers will be given a new, intimate perspective on foreign policy and modern military, revealing many never-before-heard stories and opinions from 11 leaders of the modern U.S. Army in original interviews.
Their accounts will take you through the big changes that have transformed the U.S. military from the first troops to enter Vietnam to the last combat troops to exit Afghanistan, explaining the critical personal experiences that shaped their lives and the way they approached modern warfare.
Based at the National Geographic Society headquarters in Washington, D.C., the National Geographic Channels US is a joint venture between National Geographic and Fox Networks.
Photo courtesy: National Geographic Channel