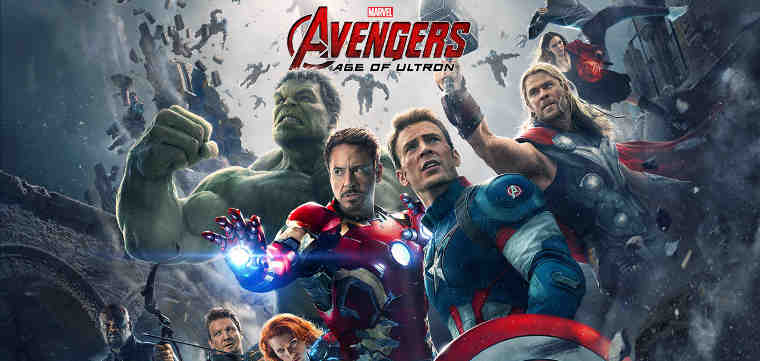 Disney / Marvel's 'Avengers: Age of Ultron' has done a whopping box office business of over $200 million in its opening weekend.
Rentrak, which measures the performance of movies, announced Sunday the worldwide box office estimates for the weekend of April 26, as compiled by the company's theatrical measurement services.
"The global movie marketplace is on fire as Disney / Marvel's 'Avengers: Age of Ultron' kicks off its monumental run as the top movie in the world this weekend with $201.2 million and placing first in all of the 44 territories in which it played," said Rentrak's senior media analyst Paul Dergarabedian.
"No less impressive, Universal's 'Furious 7' crossed the $1 billion mark internationally on Sunday and with an astonishing $323 million in 15 days it becomes the highest-grossing film in history in China."
According to Rentrak, the top 12 worldwide weekend box office estimates, listed in descending order, per data collected as of Sunday, April 26, 2015, are below.
1. Avengers: Age Of Ultron – Disney – $201.2M
2. Furious 7 – Universal – $88.0M
3. Left Ear, The – Multiple – $27.0M
4. Home – 20th Century Fox – $22.0M
5. Paul Blart: Mall Cop 2 – Sony – $20.8M
6. Age Of Adaline, The – Multiple – $14.7M
7. Cinderella – Disney – $11.4M
8. Unfriended – Universal – $6.3M
9. Ex Machina – Universal – $5.9M
10. Longest Ride, The – 20th Century Fox – $5.5M
11. Divergent Series: Insurgent, The – Multiple – $4.6M
12. Woman In Gold – Multiple – $4.2M
Rentrak is the entertainment and marketing industries' leading provider of worldwide consumer viewership information, measuring actual viewing behavior of movies and TV everywhere.