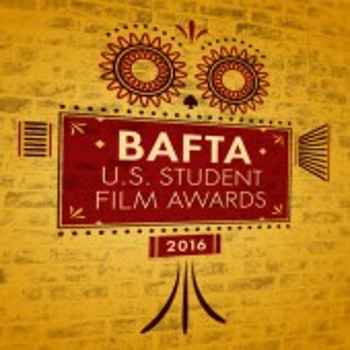 BAFTA Los Angeles has announced the finalists for the BAFTA US Student Film Awards, which will be presented at a ceremony June 16, 2016 at the Wallis Annenberg Center for the Performing Arts in Beverly Hills. Now in its thirteenth year, the event identifies and celebrates the very best student short films produced in the US.
The BAFTA US Student Film Awards Committee has chosen the following films as finalists: 219, directed by Ed Hancox, From University of Texas at Austin; El Adios, directed by Clara Roquet, From Columbia University; None of That, directed by Anna Paddock, Isabela Littger and Kritti Kauer, From Ringling School of Art and Design; An Object At Rest, directed by Seth Boyden, From California Institute for the Arts; Seide, directed by Elnura Osmonalieva, From New York University; Spark directed by Juan Martinez Vera, From the University of Southern California, Unremarkable, directed by Jared Anderson, From the American Film Institute; and Where We Stand, directed by Kristine Stolakis, from Stanford University.
[ Narendra Modi Stars in New BJP Thriller Modi Sarkaar ]
BAFTA also announced several of the panel members of the Special Jury, who will decide the recipient of the Special Jury Prize on the 16th. Jury members include Academy Award Winner Pete Docter (Inside Out), Academy Award Winner William Goldenberg (Argo, The Imitation Game), and STX Entertainment President Sophie Watts.
The finalists were selected from 245 films submitted by 56 schools across the US, with each school submitting their best films for consideration.
The selected films will be screened at the ceremony, where BAFTA Los Angeles members will cast their vote onsite for the winner of the 2016 BAFTA US Student Film Award. The Special Jury will also vote onsite for the recipient of their Special Jury Prize.
Photo courtesy: BAFTA