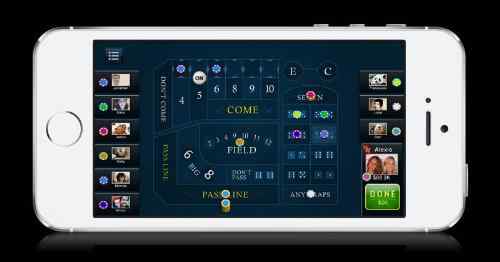 Casual games company Big Fish today announced that its free-to-play mobile game, Big Fish Casino, now includes a real-time social Craps game.
Big Fish Casino is claimed to be the first digital casino to offer synchronous play in a mobile Craps game.
In this Craps game, the shooter can blow on the dice for good luck, and if they're on a roll, the dice will get hotter for the whole table to see. Roll 16 times without crapping out, and the dice will become engulfed in blue flames.
"We've adapted one of the most social games in the casino and brought its liveliness into the mobile environment, retaining all the classic casino-style odds that attract high rollers and savvy shooters," said Carey DiJulio, VP of Big Fish Casino.
Big Fish Casino Key Features:
Players enjoy cross-platform functionality on their mobile devices, PCs and on Facebook; allowing seamless gameplay for those on the go.
Big Fish Casino creates an authentic casino experience.
Social features include chatting, sharing drinks, giving gifts, and making new friends from around the world.
Available on the iTunes App Store, Facebook and bigfishgames.com, and for Android devices on Google Play and Amazon, Big Fish Casino allows for cross-platform play, so users can pick up their game wherever they are.
Founded in 2002, Big Fish is a leading producer of casual games. The company is headquartered in Seattle, WA, with regional offices in Oakland, CA, and Luxembourg.