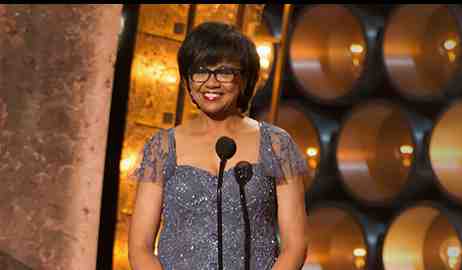 Cheryl Boone Isaacs was re-elected president of the Academy of Motion Picture Arts and Sciences Tuesday night (August 5) by the organization's Board of Governors.
In addition, Jeffrey Kurland was elected first vice president, Leonard Engelman and John Bailey were elected to vice president posts, Dick Cook was elected treasurer, and Bill Kroyer was elected secretary.
Boone Isaacs is beginning her second term as president and her 22nd year as a governor representing the Public Relations Branch.
Last year Kurland served as vice president. Both Engelman and Cook were re-elected to their posts. These will be the first officer stints for Bailey and Kroyer.
[ Also Visit: RMN Stars Academy and Oscars News Page ]
Boone Isaacs currently heads CBI Enterprises, Inc., where she has consulted on marketing efforts on such films as "The Call," "The Artist," "The King's Speech," "Precious: Based on the Novel 'Push' by Sapphire," "Spider-Man 2" and "Tupac: Resurrection."
Boone Isaacs previously served as president of theatrical marketing for New Line Cinema, where she oversaw numerous box office successes, including "Austin Powers: The Spy Who Shagged Me" and "Rush Hour."
[ Also Meet: Top Tech Market Leaders on RMN Digital ]
Prior to joining New Line in 1997, she was executive vice president of worldwide publicity for Paramount Pictures, where she orchestrated publicity campaigns for the Best Picture winners "Forrest Gump" and "Braveheart."
This year, she was inducted into the National Association for the Advancement of Colored People (NAACP) Hall of Fame, and received the African American Film Critics Association (AAFCA) Horizon Award and the 2014 Trailblazer award from Essence magazine.
Academy board members may serve up to three consecutive three-year terms, while officers serve one-year terms, with a maximum of four consecutive years in any one office.
Photo courtesy: Academy of Motion Picture Arts and Sciences