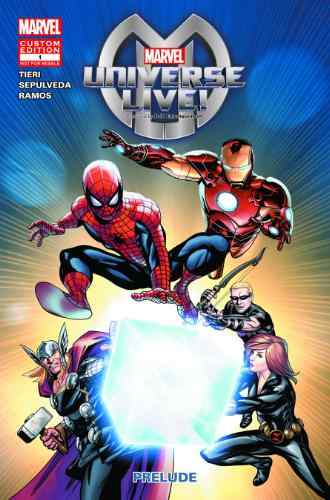 Feld Entertainment, Inc., a leading producer of touring live family entertainment, announces the release of an exclusive prequel comic book created by Marvel.
Featuring Captain America, Iron Man, Thor, Spider-Man, and more, it will give audiences insight into the story that will play out in the live arena spectacular.
With a story by Frank Tieri (Iron Man, Wolverine), illustrations by Miguel Sepulveda (Hulk, The Thanos Imperative), and color art by Jay David Ramos (Uncanny X-Force, Captain America), this complimentary comic book will be available exclusively for a limited time beginning April 16 to those who pre-order tickets.
Marvel Universe LIVE! will provide audiences with an authentic and original story that brings more than 25 Marvel characters together on one epic quest. The story is framed around the battle over the Cosmic Cube, the source of ultimate power and one of the most feared and coveted treasures in the Marvel Universe, that has been shattered into pieces by the mighty Thor in order to prevent it from falling into the wrong hands.
With the pieces scattered across the globe, Thor's villainous brother, Loki, devises a scheme to clone its powers, inciting a threat that could not only decimate Earth but also obliterate the Universe.
The original comic book will give audiences a look into how Thor gained possession of the Cube and reveals a new item in the Marvel Universe that will play a key role in the live show and the success of its heroes — the Lectro Link.
Produced by Feld Entertainment, this first-ever live Marvel tour makes its 85-city debut in July in Tampa, Fla., followed by the world premiere in New York City's Barclays Center on Wednesday, August 13.
The first leg of its North American tour will feature stops in Washington D.C., Philadelphia, Nashville, Miami and Atlanta, among many others. Tickets for Marvel Universe LIVE! are now on sale.