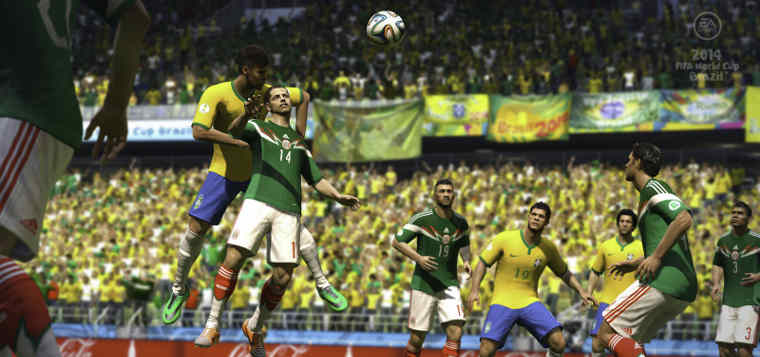 Electronic Arts Inc. (NASDAQ: EA) unveiled Tuesday its EA SPORTS tournament title, EA SPORTS 2014 FIFA World Cup Brazil, now available in stores throughout North America.
Complete with 11 Game Modes, 21 new stadiums, 7,469 players, 203 National Teams sanctioned by FIFA, and one hundred new football animations, the game is now available for Xbox 360 games and entertainment system from Microsoft, and for PlayStation 3 computer entertainment system.
[ Also Read: Coca-Cola vs. Pepsi: Cola Wars on the Football Field ]
"This summer's tournament in Brazil promises to be one of the most colorful and exciting FIFA World Cups we've ever seen," said Mat Prior, lead producer, EA SPORTS 2014 FIFA World Cup.
"The game we've created will give fans a chance to feel the excitement, drama, and flare of the tournament whether they choose to play offline against friends or online against people from all over the world."
A new design feature Patriotic Presentation implements newly rendered 3D crowds, cut scenes from celebrations all over the world, and hundreds of flags and banners to bring the sights and sounds of Brazil directly to fans' homes.
[ Also Read: FIFA World Cup Anthem: "Dar um Jeito (We Will Find A Way)" ]
Commentary in nine languages, a new soundtrack with 34 tracks, and EA SPORTS Talk Radio highlight a fully featured audio package to help shape the theme and narrative of the tournament.
EA SPORTS Talk Radio, featuring Ian Darke and Andy Goldstein, or Roger Bennett and Michael Davies (Men in Blazers), is available in Road to the FIFA World Cup and Captain your Country, contains over 50 hours of recorded content to stay up to date on all the action.
EA SPORTS Football Club will make it easy for fans of the franchise to continue their experience by making members' existing XP and Football Club Credits available to use in the catalogue of EA SPORTS 2014 FIFA World Cup.