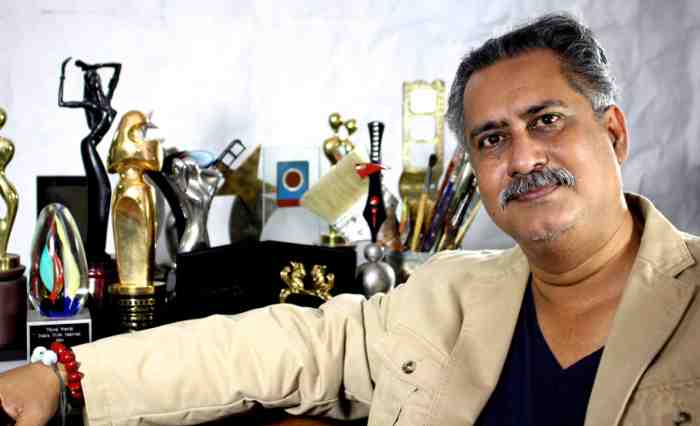 As a member of the Next Eleven (or N-11) group of countries, Bangladesh has created a niche for itself among the fastest growing economies of the region.
While the South Asian country has taken major strides in most fields of socio-economic development, now Bangladesh is actively eyeing the global film market to showcase the country's creative culture.
Of late, "Glow Of The Firefly" film has been selected as Bangladesh's entry in the Foreign Language Film category at the 87th Academy Awards. This achievement has opened a new chapter in the career of the "Glow Of The Firefly" director, Khalid Mahmood Mithu.
RMN Stars grabbed the opportunity and invited Khalid for an exclusive interaction with a view to understand his style of work and take his perspective on the larger landscape in the film market.
Here Khalid presents his views in an exclusive interview with Rakesh Raman, the managing editor of RMN Stars.
1. "Glow Of The Firefly" film that you have directed has been selected as Bangladesh's entry in the Foreign Language Film category at the 87th Academy Awards. What does this honor mean to you?
This honor has given me the encouragement to make even better films and to fulfill my role as a director. It truly is an immense part of my life and I will live up to this honor. This is a milestone I can always look back at and beam with pride and appreciation. I truly feel even more confident about myself and honored for my film to have been selected.
All these days I have only been sailing on canals and rivers. I do not know how to sail on the sea; the Academy Awards will teach me how to.
2. What is so special about "Glow Of The Firefly" as compared to the other films which you have directed that it is going to compete for the Oscar?
'Glow of the Firefly' has a language that my previous work, 'Dark Resonance,' did not have. It speaks in a different tone, in different words. This film has a lot of symbolism, which I think of as a bigger asset. Symbolic shots, experimentalism, I think these count as significant sequences in my film.
Secondly, 'Glow of the Firefly' consists of a lot of montage shots that pull the movie into a deeper level. This is why the viewers get more involved emotionally to make a connection with these montage shots.
Thirdly, I could explore and glorify nature in this film because of the storyline. 'Glow of the Firefly' is really different. I think variety is a good feature of it.
3. As a director is supposed to play a major role in the commercial success of a film, what are the qualities of a good director?
This is a tough question for me because I do not yet think of myself as a good director. But I think a good director is one who can captivate the audience the entire time they are watching the movie. A director has to be hypnotizing; his work should be a magical art that the audience just have to be involved thoroughly with the film.
4. How do you define the content quality of a film and how do you try to achieve that quality?
There have to be many components present in a film that make it good. However, the most important thing that can make a film truly amazing is the style of presentation of the director.
A film could have a completely ordinary storyline, but it could be presented magnificently and remembered just by its direction.
There are other factors of a film that must be good. Acting must be standard. The director should derive quality acting from an actor according to his or her character. Camera work and extraordinary compositions add up to making a good film.
One has to utilize lighting in its proper language and find creative ways to use this important asset to present the film. Editing must be in coordination with the director's style and story's mode. In the very same way, sound and music must be input harmonically so that the film reaches a more distinct and original fashion.
And as I have mentioned before, montage in a film is important and can take the film to a new level.
5. Is it possible for a film produced in a developing country like Bangladesh to compete at the box office with a Hollywood blockbuster?
Nothing is impossible for a creative mind. However, it is mostly difficult, perhaps almost impossible at the moment, for a film produced here in Bangladesh to compete at the box office. But it is not impossible. It is difficult, but attainable, even at this moment. Someone can produce a film that is more successful than a Hollywood movie, and someone will. Perhaps that someone will be me.
6. Which are your forthcoming film projects?
My next film will be about trafficking innocent villagers from the country, which is not a rare scenario here. Most of the sequences will be shot at sea, something much more different than the last two films.
I have completed the treatment and script and am about to talk to a producer who can support this project. Hopefully, 'The Ship of Dreams,' will be an even more powerful and successful film.
7. In today's cutthroat entertainment world, the marketing of a film before as well as after its release is extremely important. How do you market your films among the film community?
I love directing films, but truth be told (pardon me), I do not enjoy marketing at all! But a film is a huge venture; I surely have some responsibility, as someone who made the film, to get people to know about it.
Before embarking on the journey to create a film, we arrange a grand publicity of what we are making. On the first day of shooting, we have all media coverage on the film. Throughout the shooting, we sometimes allow journalists to visit the shooting spot and cover a few interesting things, like a beautiful location, an important sequence, extraordinary set design, et cetera.
Before releasing the film, we hold a press show and premier grandly. Then my cast and I visit different theatres in different districts to talk to fans to know about their opinions. This is very effective, as the public feel encouraged to watch the movie.
8. What message do you have for young filmmakers who want to embrace film direction as their career?
To all those who wish to embrace this wonderful career, I just want to say: You can be afraid, but you cannot look back. Confidence – This is the most important aspect of any director. To rise as a great director, first you must understand what the word, 'director,' means. The director is the captain. He decides the fate of the ship. Think about it. Find yourself in these words.
---
Khalid Mahmood Mithu (pictured above) is the director of the film "Glow Of The Firefly," which has been selected as Bangladesh's entry in the Foreign Language Film category at the 87th Academy Awards.
---