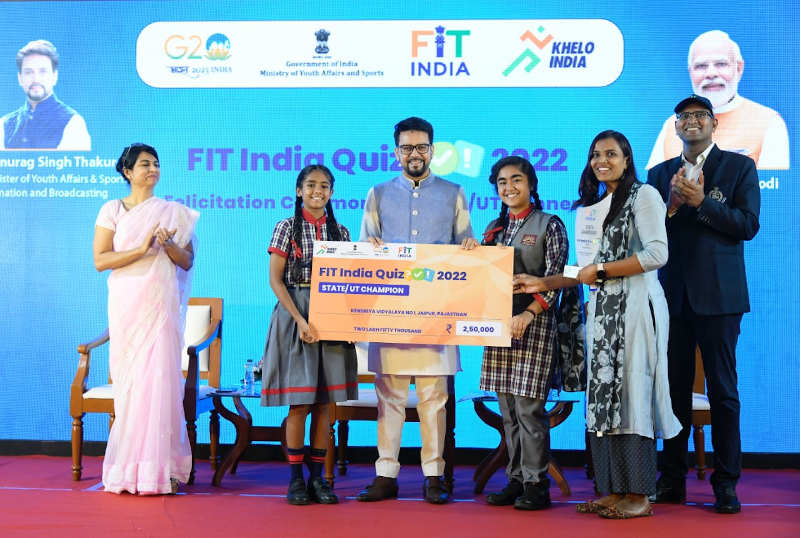 Disney Hotstar to Air National Rounds of Fit India Quiz
The National rounds of the second edition of the Fit India Quiz will be aired on the OTT platform Disney Hotstar starting August 12. A total of 13 episodes will be aired every Saturday and Sunday at 8 am. They will be hosted by anchors Tanay Tiwari and Tanya Purohit.
According to a government communique released on August 10, a total of 72 students (two students each from 36 schools) clinched the top honours from their respective States/UTs in the State rounds. 
Each of the 36 winning schools following the State rounds was awarded a cash prize of Rs. 2.5 Lakh by India's Minister of Youth Affairs and Sports Anurag Singh Thakur in Mumbai last month. The team of 2 students from the School was awarded a total of Rs 25,000.
[ Also Read: Godi Media to Virodhi Media: How Hindi YouTube Channels Operate in India ]
The total prize money for the winner of the National rounds is now Rs 25 Lakh, with the students bagging a total of Rs 2.5 Lakh. The 1st and 2nd National runners up school will win Rs 15 Lakh and Rs 10 Lakh respectively.
The second edition of the Fit India quiz is being conducted by the Union Ministry of Youth Affairs and Sports, in association with the Sports Authority of India. The quiz covers a wide range of topics related to India's sporting history, fitness, and nutrition.
The quiz was launched on 29th August last year on the eve of the National Sports Day. A total of 348 schools and 418 students were selected for the State/UT rounds.
Among these students, 39% were girl students. The selected schools formed a team of two students, who competed for the State/UT championship through a series of web rounds. A total of 120 rounds were conducted to identify 36 State/UT champions.