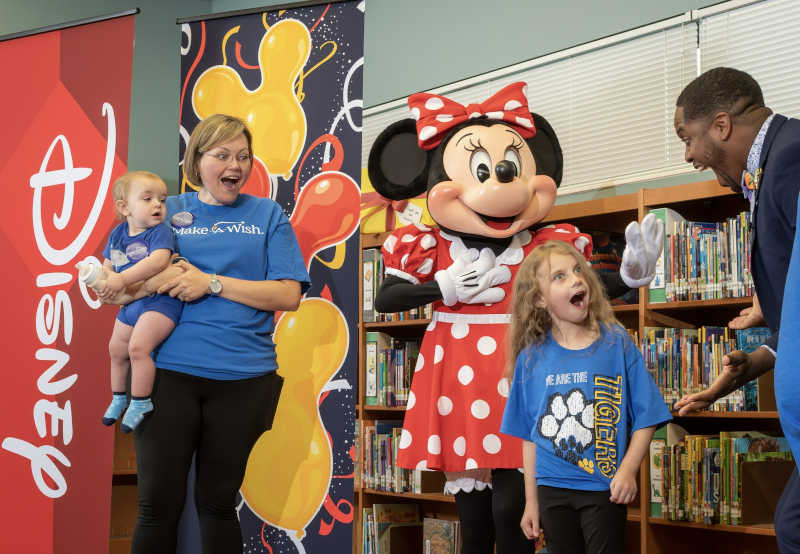 Disney to Host Royal Ball for Wish Families
Walt Disney World and Make-A-Wish have announced the "Once Upon A Wish Party," a special all-day royal experience being dreamed up just for wish families, and revealed the first wish as part of this event to a Florida first grader from the Orange County Public School district.
Minnie Mouse, Disney cast members and Make-A-Wish surprised 7-year-old Scarlett from Ventura Elementary School in Kissimmee, Fla. with the news her wish for a "Disney Princess experience" was coming true. 
A lifelong fan of Disney Princesses, Scarlett was surrounded by nearly 100 of her fellow first grade classmates and teachers, as well as her family.
"She's going to have this super special experience and be able to go to the royal ball as a princess … I know she's going to enjoy every single second of it," Scarlett's mom said. 
"To see her happy and completely fulfilled is every mother's dream. It means so much that she'll be able to experience life as a normal kid at a theme park where we don't have to think about a lot of the medical stuff that has consumed our lives in the past."
This first-of-its-kind wish event will take place during the company's World Princess Week celebration from August 20-26. In addition to Scarlett, wish families across the country will be invited for surprises from dusk to dawn, including tea and treats, immersive Disney character meet and greets, and a ball they're sure to remember forever.
This initiative follows the resort's World Wish Day efforts where the 150,000th Disney-inspired wish was granted to 16-year-old Mikayla from Palm Beach Gardens, Fla. 
More on Disney's long-standing relationship with Make-A-Wish can be found at wish.org/Disney and more on Disney's impact in Florida at DisneyFlorida.com.