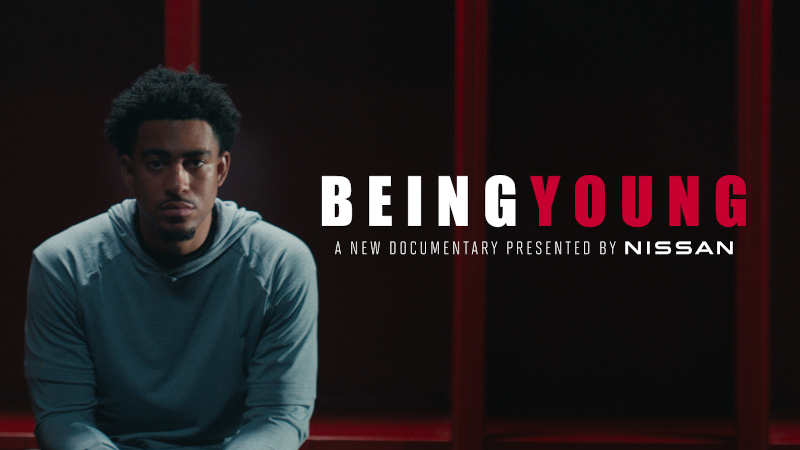 'Being Young' Documentary Presented by Nissan to Debut on ESPN+
Those who cannot get enough of Bryce Young's path to professional football can soon learn more about his journey in "Being Young," an authorized short streaming documentary profiling the 2021 Heisman winner. 
The film launches Friday, May 26 on ESPN+, and will air on ESPN2 on Tuesday, May 30 at 7 P.M. Eastern Daylight Time.
Directed by award-winning directorial team Maeyen Bassey and Matt Ogens, "Being Young" chronicles Young's path from youth to professional football and features candid interviews with Young and his parents, former teammates, teachers and coaches, plus other athletes who have benefited from new NIL rules.
The film is presented by Nissan which was among the first brands to engage with Young under new Name, Image and Likeness (NIL) rules for its 2022 Nissan Heisman House campaign.
"This unique content provides an outstanding example of how an athlete can build their personal brand while remaining true to themselves and focused on their sport," said Marisstella Marinkovic, vice president and Chief Marketing Officer, Nissan U.S.
Young received the Heisman Trophy in December 2021. The honor came on the heels of a historic Supreme Court decision allowing collegiate athletes to negotiate NIL deals for the first time. 
As one of the first athletes to engage with brands under the new NIL rulings, Young joined the 2022 Nissan Heisman House cast alongside current and former pro football players. Young was later selected first overall in the 2023 draft.
"I'm not going to do anything business-wise that takes away from me on the field, and everyone on my team knows that," Young shares in the documentary. "I'm extremely grateful for what it [NIL] has done for me and for my family, all that it's done for all athletes."
The sponsorship demonstrates Nissan's continued dedication to helping educate and elevate college athletes. Since 2015, Nissan has sponsored select NCAA Championships and 45 colleges, including seven Historically Black Colleges and Universities (HBCUs). 
In 2022, Nissan also launched its New Frontiers program featuring conversations with Heisman House veterans to help inspire college athletes to build an intentional, beneficial personal brand.