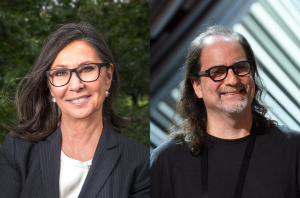 Oscar-winning producer Donna Gigliotti will produce the 91st Oscars, and Emmy-winning director Glenn Weiss will co-produce and direct the show, Academy President John Bailey has announced.
The Oscars will air live on the ABC Television Network and broadcast outlets worldwide on Sunday, February 24, 2019.
"Donna and Glenn will infuse new energy and vision into this 91st awards presentation, and we are excited about a broad-based creative relationship with these two artists," said Bailey.
Gigliotti won a Best Picture Oscar for "Shakespeare in Love" and earned nominations for "Hidden Figures," "Silver Linings Playbook" and "The Reader."
[ International Film Festival of India in Goa ]
Her other producing credits include such features as "The Fundamentals of Caring," "Beasts of No Nation," "Two Lovers," "The Good Night" and "Emma." The films she has produced and overseen have earned a total of 43 Oscar nominations.
Returning to direct his fourth consecutive Oscars, Weiss has won 14 Primetime Emmy Awards, including one earlier this year for the 90th Oscars.
He has directed and produced numerous televised events, including 18 Tony Awards shows. His other directing credits include "The Kennedy Center Honors," "Billboard Music Awards," "BET Awards," "Peter Pan Live!," "Dick Clark's Primetime New Year's Rockin' Eve with Ryan Seacrest," "Primetime Emmy Awards," "Live from Lincoln Center," "Macy's 4th of July Fireworks Spectacular," "Garth Brooks, Live from Las Vegas" and the "American Music Awards."
The 91st Oscars will be held on Sunday, February 24, 2019, at the Dolby Theatre at Hollywood & Highland Center in Hollywood, and will be televised live on the ABC Television Network. The Oscars also will be televised live in more than 225 countries and territories worldwide.