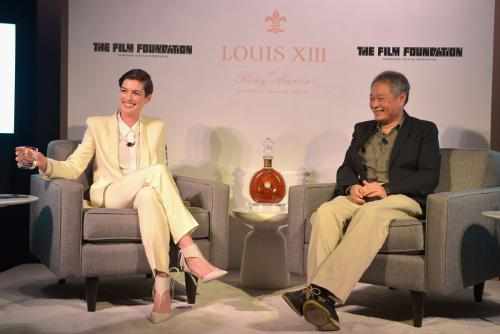 LOUIS XIII Cognac, a spirit brand from the House of Remy Martin, and The Film Foundation co-hosted an evening of conversation with Academy Award winning director Ang Lee and special guest, Academy Award winning actress Anne Hathaway.
The discussion, which took place in Beverly Hills, featured a tribute to the accomplished director of The Life of Pi; Brokeback Mountain; Crouching Tiger, Hidden Dragon; Sense and Sensibility, and other films.
"I do my best at every movie. I hope that will be my legacy," said Ang Lee. "I think to be honest is the most important thing."
Later in the evening, Mr. Lee was joined by Ms. Hathaway, who shared her inspirations from working with Mr. Lee on Brokeback Mountain. It was announced today, Feb. 20.
The collaboration between The Film Foundation and LOUIS XIII celebrates film as an art form.
Created in 1990 by Martin Scorsese, The Film Foundation is dedicated to protecting and preserving motion picture history.
In the picture above: LOUIS XIII and The Film Foundation Co-Host Creative Encounter: A Conversation With Ang Lee And Special Guest Anne Hathaway.