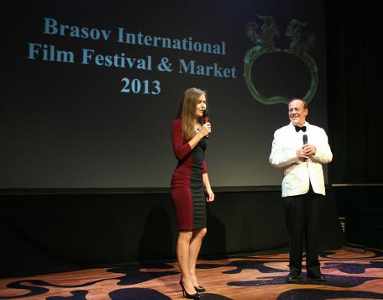 Brasov Film Center has announced that the 3rd Annual Brasov International Film Festival & Market, will be held from September 4 to September 14, 2014 in Brasov.
The Festival will take place at the Reduta Cultural Center that houses a 350 seat theatre and it is situated a few steps from the old city center.
Brasov is located in the central part of the country, about 166 km north of Bucharest. It is surrounded by the Southern Carpathian Mountains and it is part of the Transylvania region.
The city is situated 20 minutes from the infamous Dracula Castle and 12 km from the Olympic winter resort town of Poiana Brasov.
[ Also Read: International Short Film Contest: My Røde Reel ]
A total of eleven films are presented each year; of these, nine films are screened in competition and two are screened out of competition on the opening and closing gala nights.
The deadline for submission of nonviolent feature films with a minimum running time of 85 minutes (no documentaries, cartoons or short films) is May 30, 2014.
The Festival is partner with FilmFreeway and it is accepting film submissions.
Starting on August 8, tickets to attend the Festival can be purchased from Eventbrite.
Films that have participated to the previous editions of the Festival have included ONE DAY (starring Anne Hathaway, directed by Lone Scherfig), ARBITRAGE (starring Richard Gere), SEVEN POUNDS (starring Will Smith, Woody Harrelson), BEING FLYNN (starring Robert De Niro), RABBIT HOLE (starring Nicole Kidman), and others.
Brasov Film Center is the sole owner and organizer of Brasov International Film Festival & Market. Daria Trifu is the founder and festival director.
Global Film Studio Inc. is the financier of Brasov International Film Festival & Market.