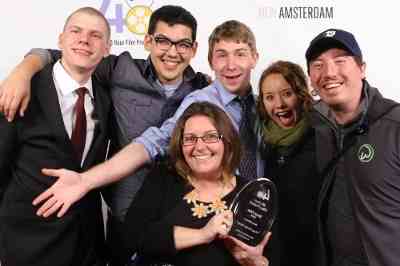 Pond5, a marketplace for video footage, announced Tuesday a partnership with the 48 Hour Film Project, a film competition.
As the official stock media sponsor for all 135 cities participating in the competition, Pond5 is offering 100 hand-picked audio tracks to contestants for free. All participants will also receive $25 in Pond5 credit.
"We're incredibly excited about our partnership with Pond5," said 48 Hour Film Project co-founder and executive producer Mark Ruppert. "With Pond5's world-class media library, our filmmakers will have access to fantastic content for their 48 Hour films and future projects."
From Friday evening until 7:30pm Sunday, participants work frantically to write, shoot and edit their 7-minute films. Winners receive $5,000 and a screening at the Cannes International Film Festival. The 2015 contest spans 35 weekends from March through November.
Since its inception in 2001, contestants in the 48 Hour Film Project have created 30,000 films, in cities as diverse as Seattle, Lima, and Taipei.
"The 48 Hour Film Project is one of the best, most effective supporters of grassroots filmmaking in the world," said Pond5 cofounder and CEO Tom Bennett. "As filmmakers and artists ourselves, working with them is a natural fit and a lot of fun."
As the most artist-friendly media marketplace in the world Pond5 empowers artists to set their own prices and offers contributors a 50% commission on each sale.
Pond5 is a leading marketplace for HD and 4K video footage, and recently released more than 80,000 free public domain stock footage clips and media files, available for instant download and remixing, said the company. Pond5 is a venture-funded company backed by Accel Partners and Stripes Group.
The 48 Hour Film Project aims to advance filmmaking and promote filmmakers. The tight 48-hour deadline puts the focus squarely on the filmmakers, emphasizing creativity and teamwork and "doing" instead of "talking."