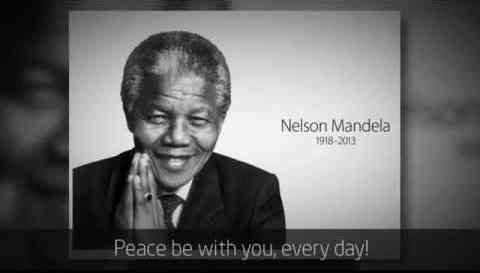 International Mandela Day 2014 will be celebrated globally this year with a new musical production, Footsteps of Mandela.
It will be a day of commemoration marking the first birthday since the passing on Dec. 5, 2013 of South Africa's first democratically elected president, Nelson Mandela.
Jazzical pianist and producer Joel A. Martin and South African producer Welcome Msomi present an original musical production inspired by songwriter Stan Satlin's Auratorio Americana, a choral work celebrating world peace, freedom and human dignity.
[ Also Read: What Should be the U.S. Policy on Human Rights? ]
A drumming circle performing outside The Riverside Church will inaugurate the international Drums of the World emanating from New York and Johannesburg, South Africa to countries across Africa, Asia, Europe, and the Americas.
Proceeds from Footsteps of Mandela will benefit The Nelson Mandela Foundation and "Nothing But Nets" Program with the Simon Estes Foundation / United Nations Foundation.
The performance and HD broadcast will take place on Friday, July 18, 7 pm, at the Riverside Church. Nelson Mandela visited Riverside in 1990 just after he was released from Robben Island after being imprisoned there for 27 years, and again in 2005 on his final trip to North America.