Ride Along will be available on Blu-ray Combo Pack, including Blu-ray, DVD and Digital HD with UltraViolet and On Demand on April 15, 2014, from Universal Studios Home Entertainment.
This film will also be available on Digital HD two weeks early on April 1, 2014.
An all-new comedy from director Tim Story (Think Like a Man, Fantastic Four, Barbershop), Ride Along stars actor and recording artist Ice Cube (Barber Shop, 21 Jump Street) and actor and comedian Kevin Hart (Think Like a Man, Kevin Hart: Let Me Explain).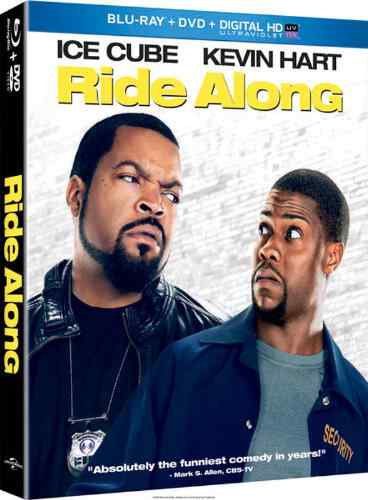 The film also features performances from Tika Sumpter (Tyler Perry's A Madea Christmas, "The Have and Have Nots"), John Leguizamo (Kick-Ass 2, The Lincoln Lawyer), Bryan Callen (The Hangover, Warrior), Bruce McGill (Lincoln, Collateral), and Laurence Fishburne (Man of Steel, The Matrix).
The Ride Along Blu-ray Combo Pack and iTunes Extra feature an exclusive alternate ending and both the Digital HD and VOD releases will include a gag reel.
Both the Blu-ray Combo Pack and DVD include feature commentary by the director, plus a behind-the-scenes documentary chronicling the making of the film.
The Blu-ray Combo Pack also contains an alternate take, an alternate ending and behind-the-scenes footage and interviews with the stars and filmmakers.