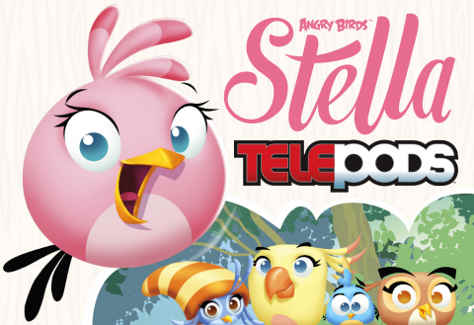 Introduced last fall with Rovio's Angry Birds Star Wars II and Angry Birds Go!, Telepods is a gaming platform for the mobile generation. It allows fans to play in both the physical and digital space through seamless integration into top-tier apps.
Using the Telepods platform, kids will be able to "teleport" Stella and her friends into Rovio's upcoming Angry Birds Stella game using their smart devices and unlock exciting features and content.
Hasbro, Inc. (NASDAQ: HAS) has announced the new Angry Birds Stella: Telepods product line in conjunction with the recently announced Angry Birds Stella, the newest brand from Rovio Entertainment featuring the Stella character and her fierce flock of friends.
[ Also Read: Sony Acquires Rights to Angry Birds Toons ]
"The new playsets and figures combined with the Telepods platform allow kids to be even more imaginative as they take Stella and her friends on new adventures in both the physical and digital worlds," said John Frascotti, global chief marketing officer, Hasbro.
"Angry Birds Stella is an entertainment brand that will span across multiple digital and physical platforms in the coming years, and open a whole new world for our fans," said Naz Cuevas, SVP of Global Consumer Products Licensing, Rovio Entertainment.
Hasbro's Angry Birds Stella: Telepods line will be available in stores globally later this year.