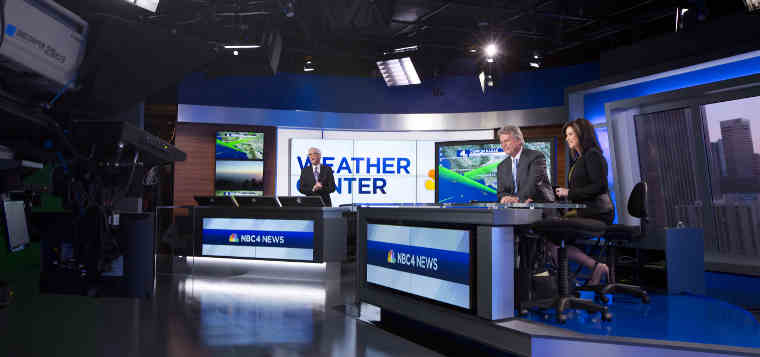 NBCUniversal is opening new headquarters for its west coast news and television operations on the Universal Studios lot in Los Angeles.
Starting Feb, 2, NBC4 Southern California / KNBC was the first to broadcast from the new 150,000-square foot technologically advanced facility, to be followed by the Los Angeles bureaus of NBC News, CNBC, MSNBC and Telemundo News as well as Telemundo 52 / KVEA later this spring.
Co-locating the news operations in the 24/7 broadcast center will enable their collective resources to be fully leveraged, fostering even greater collaboration, says the company.
[ Also Read: Comcast Plans $1.2 Billion Technology Center ]
The space – which spans two three-story buildings – is a full-service multi-platform production facility and includes four newsroom facilities, six production studios and an advanced content distribution center.
"It is essential that our west coast news and television operations are supported by a state-of-the-art broadcast center to best deliver the news and programming to our viewers worldwide," said Michael Moore, president, NBCUniversal Studio Operations Group.
[ Also Read: Netflix Offers NBCUniversal Shows for Canadian Members ]
The center's first occupant – NBC4 Southern California – is broadcasting from a new set designed to enhance story-telling and deliver breaking news.
The set features 27 high-definition monitors capable of displaying rich multimedia graphics for an even greater viewer experience and adaptable for live and taped video.