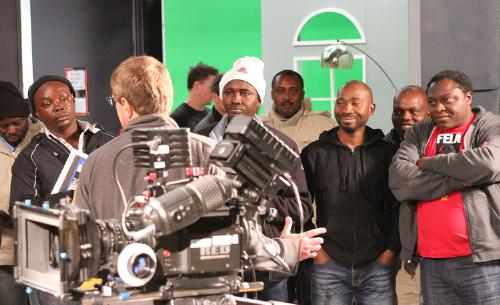 Two dozen filmmakers from the "world's third-largest producer of content" are attending a four-week course at the Colorado Film School this spring.
Their objective: to raise professional standards for future features in Nigeria – and potentially allow their homeland to compete for international awards.
Nigeria trails only the United States and India in terms of volume of content, sometimes producing 1,000 titles a month. But many of them are for domestic consumption and the technological level of these films are considered below par.
[ Also Read: Why Bollywood Always Makes Bad Films ]
Now, through an economic development grant in Nigeria entitled 'Project Act," the country has enlisted the help of CCA, a Colorado community college which houses the Colorado Film School, to raise the bar.
The Nigerian filmmakers are spending 20 days and 44 one-hour modules that offer training in such facets as script writing, story structure, character development, writing dialogue, directing actors, eliciting reality behavior in performances, moving the camera, and lighting.
Andy Amenechi, president of the Directors Guild of Nigeria, said that the benefits wouldn't be confined to the participants but through the dissemination of information after the group returns to Africa in terms of professional tutorials and on-set mentoring that the filmmakers will be able to proffer.