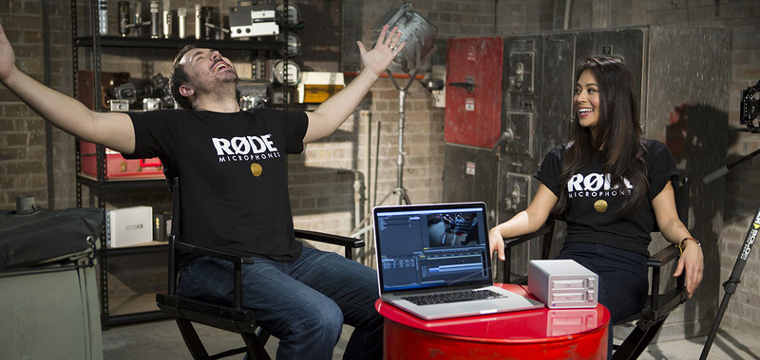 Pro-audio brand RØDE Microphones has announced the 'My RØDE Reel' international short film competition.
It is conceived to nurture emerging, independent filmmakers and give them the opportunity to share in more than US$70,000 in prizes.
Running from March until June, the aim of the 'My RØDE Reel' contest is to encourage filmmakers from all walks of life to get out in the field, creating films and continually improve their craft.
[ Also Read: Model Search: Are You the New Face of Ambi? ]
Entrants to 'My RØDE Reel' are required to create a short film of five minutes or less, as well as a behind-the-scenes reel that features a RØDE microphone being used during the production of the film.
There are three main prizes of filmmaking gear available to win — a judge's prize for the short film, a judge's prize for the behind-the-scenes reel, and a publicly voted prize for the short film.
Additional category prizes are available for Best Sound Design, Best Soundtrack, and more.
[ Also Read: Artists to Create Digital Artwork in Fotolia Project ]
The total prize pool is valued at more than US$70,000 and includes BlackMagic and GoPro cameras, Carl Zeiss lenses, Miller tripods, RedRock Micro rigs, SmallHD and Teradek monitoring equipment, and so on.
RØDE has brought together a judging panel for 'My RØDE Reel' that includes filmmakers as Philip Bloom, FIlmRiot host Ryan Connolly and Devin Graham, best known from his high-adrenalin YouTube channel Devin SuperTramp.
To help aspiring filmmakers with their entries, RØDE has produced an educational series of tips & tricks videos.
[ Also Read: Oscar Winner Edward Saxon to Teach Screenwriters ]
Hosted by Ryan Connolly and Olivia Speranza, the course guides viewers through the filmmaking process from pre-production through to shooting and on to post-production and distribution.
Entries for 'My RØDE Reel' are open from March 1st and close May 31st. As an 'earlybird' bonus, all entries accepted during March will receive a free copy of RedGiant's PluralEyes audio synchronization software, valued at $199.
RØDE has provided an entry pack that steps through the process, as well as templates for scripting, storyboarding and more, available now by registering at www.myrodereel.com.