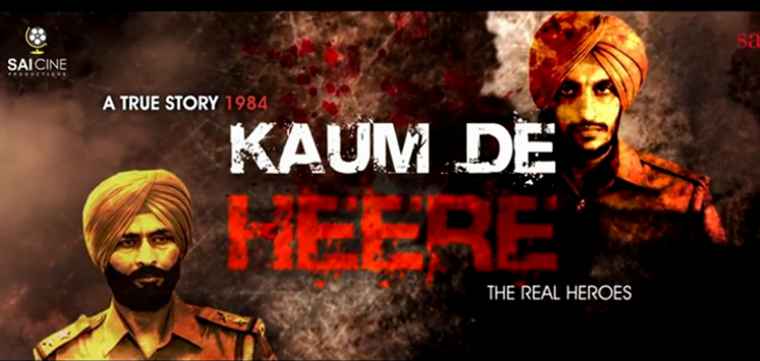 Government in India has prohibited the release of controversial Punjabi film Kaum De Heere, which is based on the assassination of Congress leader Indira Gandhi, a Prime Minister of India.
She was assassinated in October 1984, at her New Delhi residence by her own Sikh bodyguards, Satwant Singh and Beant Singh.
The film Kaum De Heere (nearest translation: Gems of the Religion) was scheduled for release today, August 22.
A day before the release of the film, the Central Board of Film Certification in India decided to withdraw its censor certificate that was earlier issued to Sai Cine Productions, a film production company based in Chandigarh (India), which has produced the film.
The government has taken this decision following repeated protests by different political parties in India – including the ruling BJP and Congress – that warned the film would disturb the communal harmony in the country, as it glorifies Mrs. Gandhi's killers.
According to Sai Cine Productions, Kaum De Heere film is a real story about Sikh genocide in 1984.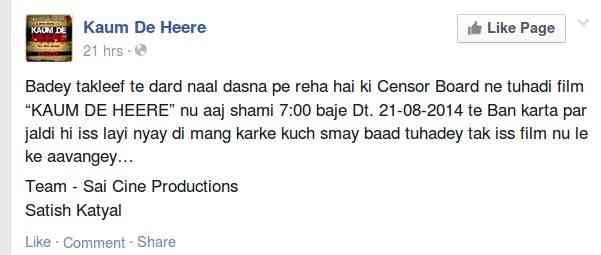 In a message on its Facebook page (pictured above), the film company said that as it's seeking justice, the film will be shown to the public after some time.
The film starring Raj Kakra, Sukhdeep Sukhi, Isha Sharma, and Sardar Sohi is directed by Ravinder Ravi.
Photo courtesy: Screen grab from Kaum De Heere trailer