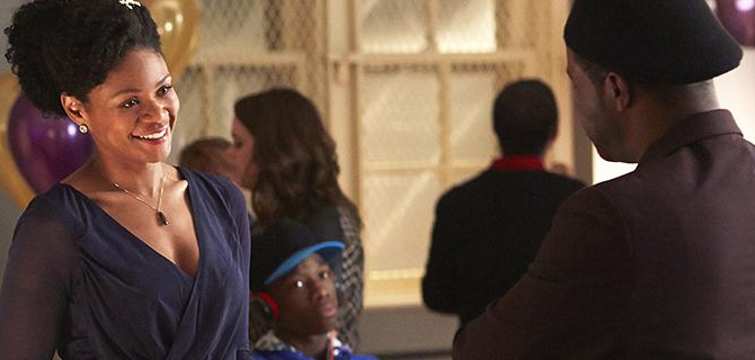 Family entertainment channel UP presents the UP original movie Apple Mortgage Cake. It is stated to be a true story of Angela Logan who when faced with foreclosure set a goal to bake 100 cakes in 10 days to save her home.
The film stars four-time NAACP Image Award winner Kimberly Elise (Diary of a Mad Black Woman, "Grey's Anatomy") and it is produced by Entertainment One (eOne).
Michael Scott ("Mrs. Miracle," UP's Far From Home) directs the film from a script by Jamie Pachino ("Franklin & Bash").
Apple Mortgage Cake will premiere exclusively on UP on Easter Sunday, April 20, at 7:00 p.m. EDT.
Angela Logan (Kimberly Elise) is a single, working mom with three teenage boys, Marcus (A.J. Saudin), William (Stephan James) and Nicolas (Lamar Johnson) in Teaneck, NJ. She juggles various jobs and helps with employment counseling at the local Mission.
While thrilled to be in the family home where she learned to bake, the house is falling apart, with sections deemed uninhabitable by inspectors after storm and flood damage.
She has always made due until now – when her lender calls in the mortgage loan and puts her into foreclosure. Angela has 10 days to come up with $4000 or she loses her home.
Based in Atlanta, UP is a division of UP Entertainment, LLC.
Entertainment One is the international distributor for the film. Entertainment One Ltd. (LSE:ETO) is an international entertainment company that specializes in the acquisition, production and distribution of film and television content.
Photo courtesy: UP