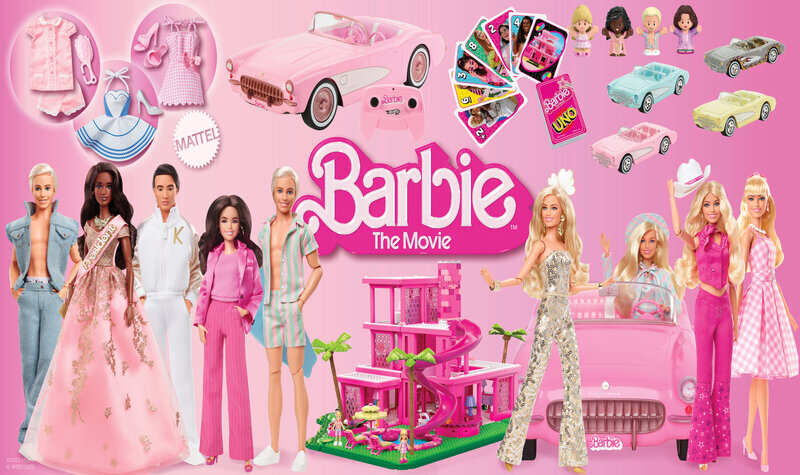 Mattel Product Collection to Celebrate the Upcoming Movie Barbie
Mattel, Inc. (NASDAQ: MAT) announced today (June 1) a new collection from across the portfolio of Mattel brands inspired by the new film, Barbie. Created in partnership with Warner Bros. Pictures, the upcoming movie, Barbie, debuts in theaters July 21st. 
The line of Barbie the Movie dolls features looks fans will see in the movie, reflecting the signature styles of Barbie, Ken, and new characters as they traverse through Barbie Land and beyond. 
The collection emulates the Barbiecore and Ken-ergy felt in the feature film, from their first-look outfits to the matching sets worn in the movie. The collection features several accessories, including a mini replica of the three-story DreamHouse from MEGA and a stunning pink RC Corvette from Hot Wheels.
"Barbie the movie is a monumental moment for the brand, and we cannot wait for fans to experience Barbie like never before on the big screen," said Lisa McKnight, Executive Vice President and Global Head of Barbie & Dolls, Mattel. 
Along with Barbie items inspired by the characters in the movie, Barbie, Mattel is also releasing a collection of products celebrating the live action feature film across the larger Mattel portfolio.
The Mattel collection of the movie Barbie products, available in collectible packaging, will be at retailers and/or Mattel Shop for an SRP of $1.25 to $150 starting June 1st.
In continued celebration of the film, Mattel will also be releasing an array of movie-themed products with over 100 brand partners across fashion, beauty, accessories and more starting this month.