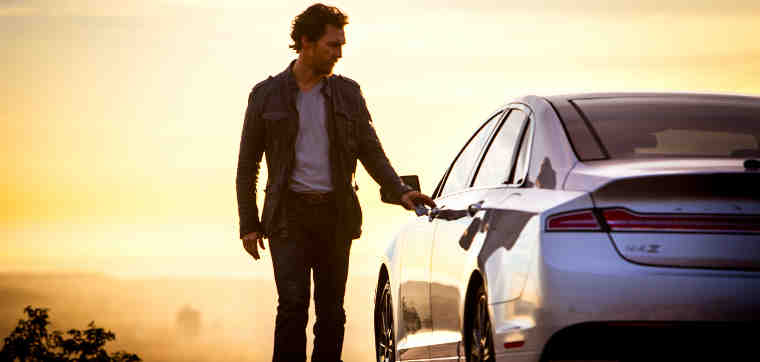 The Lincoln Motor Company will launch its newest ad campaign promoting the 2015 Lincoln MKZ and Lincoln MKZ Hybrid and featuring Matthew McConaughey. The new ads will begin airing Jan. 1.
"Matthew's natural storytelling ability perfectly complements the Lincoln story as we continue to raise awareness and drive conversation in creative and unexpected ways," said Andrew Frick, group marketing manager, Lincoln.
The spots were filmed over two days in Los Angeles. Director Nicolas Winding Refn, who helmed the "Live in Your Moment" campaign, along with representatives from Lincoln and ad agency Hudson Rouge collaborated to create the ads that will air in the United States and Canada.
In the spot "Diner," McConaughey and Refn use a small neighborhood restaurant in Silver Lake to create a dramatic narrative highlighting features of Lincoln MKZ.
The ad emphasizes the car's sleek exterior, open interior, push-button start, MyLincoln Touch driver connectivity system and available retractable panoramic roof.
In the ad "Balance," McConaughey is seen in Griffith Park in front of the L.A. skyline while pondering the MKZ Hybrid's balance of beautiful design and fuel efficiency.
Urban and rural imagery, nicely juxtaposed, underscores the idea that luxury car buyers need not compromise on style to be environmentally responsible.
"If I can be authentic, and the spots are authentic, then we are sending the same message," McConaughey said. "And I think we're doing that in this series of Lincoln ads."
The Lincoln Motor Company is the luxury automotive brand of Ford Motor Company.